The Gorge Fly Shop team is the backbone of this operation, a culmination of different backgrounds ranging from fly tiers to those who either guide or have guided for years. A mix of Bass lovers to Steelhead Finatics. Outside of running the fly shop while Travis is out chasing steelhead, elk, or his children, they are the folks who keep the wheels turning. This site wouldn't be possible without their dedicated work.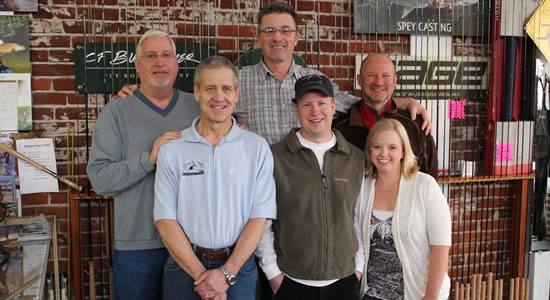 Back Row: Dan Gordon, John Garrett, Greg Darling.
Front Row: Steve Johnson, Travis and Lyndsey Duddles.
In efforts to help you the customer better understand our Team we decided over the course of the next couple of months we will be poking and prodding our Team members to get their bio's down on paper, so check back from time to time as we add each members personal bio to our Team page and maybe you will learn something new.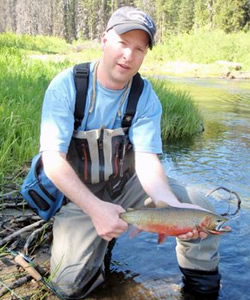 Name:
Travis Duddles
Title:
Owner (wealth of knowledge)
Years at the Shop:
21 Years
Age started fishing:
8 years old
Favorite Fly Fishing Vacation Destination:
Flats of Mexico (chasing permit)
G. Loomis NRX 9' 9 weight, the perfect permit set up.
Learn more about how the Fly Shop got started.
---
In the mean-time, check out our "Ask the Experts" page for any fly fishing questions you may have.