Saracione Reels
Our Products
:
Reels
> Saracione Reels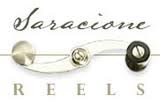 For over 20 years, SARACIONE has been recognized as the leader in high quality handmade salmon, trout and steelhead fly reels worldwide. Joe Saracione builds his reels with much pride and passion. As of July 2014 Joe has decided that full time production has taken away from his quality of life and keeps him from enjoying the sport of fishing. So as of this time forward Joe will only produce reels on a limited basis and is going to only deal in sales directly. We're miss selling and displaying Joe's work of art reels but as fisherman we also understand the importance of enjoying the sport for which provides the passion that goes into every reel he builds. That passion is Priceless!. You can contact Joe to order direct @ 503-668-7013
---
Click here for Buyers Guide to Fly Fishing Reels
Browse these categories under "Saracione Reels"