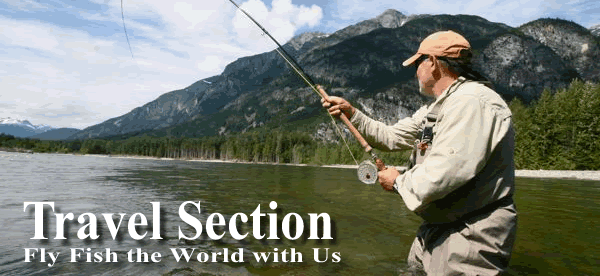 There isn't a serious angler out there that doesn't like traveling to fish new water. For most of us, packing for the trip is a ritual alone. Organizing your gear, trying flies, buying extras of everything, & packing it all up is part of the process...
That is why The Gorge Fly Shop has teamed up with Jerry Swanson at Fish Head Expeditions. With over 30 years of fly fishing travel experience, Jerry is a wealth of knowledge on many locations around the world.
Legendary fly fishing guide Tom Larimer hosts trips to some of the worlds finest fly fishing destinations.
---
by Jerry Swanson:
"After fishing the Sage 5, 6 and 7 weight Sage 11' 9" spey/switch rods for the last 14 months I will say that every angler should consider owning at least one of them. An exception is if you only fish spring creeks. They may be called switch rods, but I use them as spey rods only. These are not crazy fast rods like some of the single and two-handed TCX. The size of the water, size of the fish, the type of flies being cast and the obstacles to casting are always guides to the length and line weight of rods to be fished."