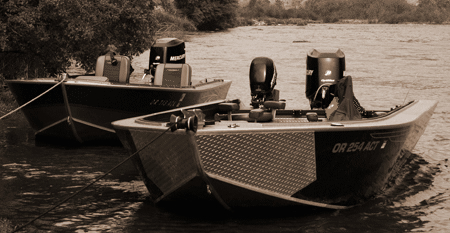 Want to learn to fly fish, d
on't know where to start?
We have the perfect package for you.
In just one day, you will learn the basic skills you need to catch a fish. Why struggle with the learning curve on your own, when we can show you the simple tricks that make fly fishing an art form. And don't stop there, keep on learing with a fly-tying class or casting lesson.
---
Private fly fishing lessons (Deschutes River)
There is no better way to learn how to fly fish than taking a private lesson from one of the top guides on the water. You will start your day out by learning the basics of the art of fly casting. The rest of your day will be spent floating the Deschutes River learning how to chose and present your fly to the famous Deschutes Redside Trout. In addition you will learn about the different forms of bug life that trout feed on. And if all goes well you will also get many chances during the day to learn how to hook, land and release these magnificent trout.
The guides we work with are
some of the best
fly fishing instructors you will find anywhere.
The guides would be happy to
tailor a class to your needs
.
---
Private Casting Lessons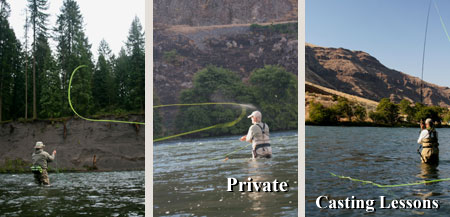 Gorge Fly Shop has a staff of excellent casting instructors. Whether you have never casted a fly rod before or have been casting for years and just want to brush up on some advanced skills, our instructors can help you. We present our lessons on a private, appointment-only basis, which guarantees you personal attention. Our skilled instructors can teach almost anyone to fly cast in under two hours.
---
Private Spey Casting with Tom Larimer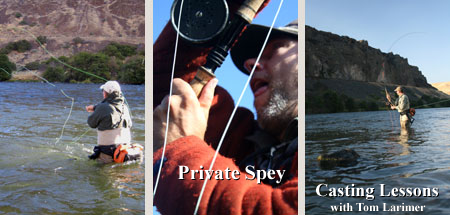 If you truly want to take your casting ability to a higher level

, consider personal coaching. Outside of guiding, Tom Larimer offers personalized two-handed casting instruction. It is a lot easier to improve your skills as a caster if you're not focused on the fish. Tom is schooled in all styles and methods of two-handed casting, however short-belly lines (55ft.belly) and shooting tapers (Scandinavian shooting heads, Skagit heads, etc.) are the bread and butter of the lines he cast's for steelhead. Burkheimer spey rods equipped with Ross Reels and Airflo Fly Lines will be on hand for your use. 
photos courtesy of larimeroutfitters.com
---
This is a short test video for our Guide Page, enjoy...

---