The mighty Columbia River could be called the Pacific Northwest Interstate for Anadromous fish. Many migrating species with several destinations make this a 6 lane highway equivalent. Very few resident Fish live here. But there is a species that a few locals are aware of. While being an alien in these waters and regarded as an intruder, the Wiley smallmouth bass has staked out home and is not leaving anytime soon. With an abundance of food from the Pacific Crayfish to the other alien "American Shad", they are surviving and thriving in the chilly waters of the Columbia. Those in the know who pursued these pugnacious creatures will whisper that the Columbia is a first class Smallmouth Bass fishery in fear their secret will get out…Shhh! - Greg Darling
---
Guide Service: Gorge Guide Service
River: Columbia River
Species: Smallmouth Bass
Time of year: May through mid-November
---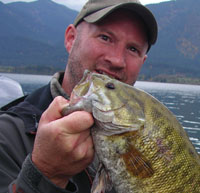 Gorge Guide Service will take you by Boat on the Mighty Columbia River for a Scenic and Adventurous Fishing Trip for Smallmouth Bass. BASS! That's right. Some of the Country's Best Bass Fishing is right here, untapped and waiting to be discovered. Not only is the fishing great but you get to do it in the heart of the Columbia River Gorge National Scenic Area. Surrounded by the Cascade mountain range between Portland and Hood River, Oregon....."Fish On" takes on a whole new meaning!
Gorge Guide Service aims to advance
the technique of fly-rod fishing for bass and introduce this great sport to others.
My wife and I started vacationing in the Pacific Northwest and fishing the local waters. Here my passion grew even stronger with so much new and interesting water to explore. This gave birth to the idea of Gorge Guide Service. The dream of Gorge Guide Service came to reality three years ago when my wife and I relocated to the Columbia River Gorge. Besides all the great fishing for Steelhead, Trout and Salmon, I was most excited to find such a great population of Small Mouth Bass in the Columbia River that lies seemingly untapped and maybe overshadowed by other great sport fish.
My mission with Gorge Guide Service is to
advance the technique of fishing for trophy Bass
and enlighten others to this great sport. As I said in the beginning, I am an angler and several species are on my list to pursue including Steelhead, Walleye, Carp and Shad while using and developing fly rod techniques to take them.
This is the short story of how Gorge Guide Service became your premier source for Columbia River Small Mouth Bass fishing and I look forward to sharing more of my story and experiences with others.
Book your guide trip today.
A Brief Introduction: The Town of Hood River, Oregon lay on the banks of the mighty Columbia River, deep in the heart of the scenic, Columbia River Gorge.
Few other places in the Pacific Northwest display such a vivid reminder of the vitality and the awesome power inherent in the moods of Mother Nature. Here, your senses need no encouragement. A gaze can, at such short notice, leave you agape; simply humbled by the expanse of her drama or the charm of her intricacies.
At close to 80 miles in length, [Continue Reading]