Species:
Summer Steelhead
Time of year:
July through mid-December
Every summer thousands of summer steelhead make their way into the lower reaches of the Deschutes River system. Averaging five to eight pounds, these chrome bright rockets deliver crushing grabs, incredible aerial shows, and blistering runs. What makes these fish so special is there willingness to take surface and near surface presentations in low light conditions. Wet flies and skaters account for the majority of fish taken when the sun is off the water. As the sun illuminates the river in the mid-day, large flies swung on sink-tips can be very productive.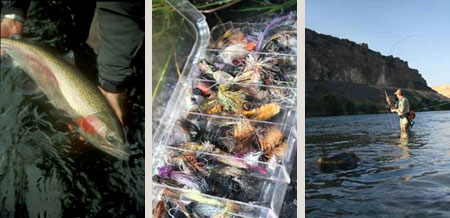 And then there's the water... Mile after beautiful mile of seductive fly water. "World class" doesn't even come close to describing the endless steelhead water of the Deschutes. With 100 miles of river and numerous access points, one could spend a lifetime fishing the "D" and still be left wondering.
The Deschutes' massive riffles, runs, and tail-outs require long casts often inhibited by tight casting conditions. Spey rods allow anglers to efficiently cover lots of water with minimal fatigue. Two-handed rods from 12'6" to 14' in line weights 6 to 8 are the tools of choice on the Deschutes. Anglers should be prepared to fish both floating lines and Skagit style sink-tip lines. While the vast majority of anglers use two-handed rods, single handed rods 9' to 9'6" in 7 to 8 line weights can be used as well.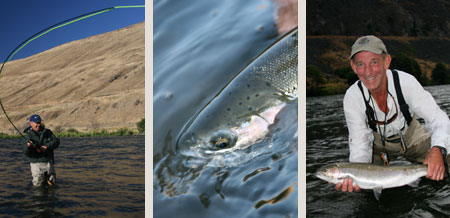 The wild and scenic Deschutes is a tail-water. Consequently, the river has consistent cold water flow. From Pelton Dam downstream, the river cuts it's way through 100 miles of immense high desert canyon. The massive basalt walls creates an impressive back drop to fish under. Wildlife is abundant. It's not uncommon to see bighorn sheep, blacktail deer, otter, mink, and a huge variety of birds. Make no mistake, this is rattle snake country, but they too are a part of the experience.
With it's incredible steelhead, endless fly water, and beautiful setting, the Deschutes is a "Must Fish" for any serious steelhead addict. If you're new to the sport, there isn't a better river to cut your teeth on. No matter what your experience level, the Deschutes is an angling experience you'll never forget.