Low-key, High-value operation
We have heard the word biased may come to mind when thinking of this lodge, just wait to meet these guides. Located on the Grande Ronde River, near Troy, Oregon, this is where some of the Northwest's finest steelheaders and spey casters congregate for two months of guiding and instruction. Renowned spey instructor Scott O'Donnell heads a crew of diehard steelhead guides who love the Ronde and the steelhead it sustains. As much a spey casting and fishing school as a hard-charging guiding operation, this is the best place we know of to learn the art of spey casting and improve your swing fishing skills. Now offering two distinct options on different sections of the river, Speywater Lodge continues to improve and impress.
Location:
Speywater Lodge is located on the Grande Ronde River outside of Troy, Oregon.
Season:
September to November
Prime dates available for 2017 during September, October and November.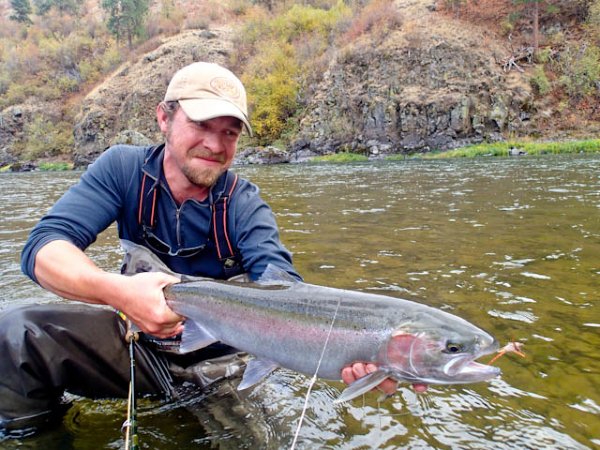 Species:
Summer steelhead
To take advantage of the lower and the middle sections of the river Scott has two distinct programs. Speywater Lodge and Speywater Floats.
Speywater Lodge Located on a productive stretch of the Grande Ronde upstream of Troy, OR, this comfortable lodge is the ultimate hub from which to fish the Ronde in October and November. Eight guests stay in double occupancy rooms with shared baths, and meals are taken in the main lodge. Anglers will depart the lodge each day with their guide to float a different section of the river, getting out to wade prime runs. Lodge trips are great for the later part of the season when air temperatures make camping less than desirable. Additionally, the river around the lodge differs in character from the broader, more open river downstream, giving guests the opportunity to develop an entirely different set of skills centered around the technicalities of fishing deeper pools and pocket water.
Float Trips The multi-day float trips start the last week of September and continue through the last week of October. These trips cover the lower portion of the river and take out very near the mouth where Grande Ronde flows into the Snake River. For those who want to maximize their time on the water, these six-person multi-day float trips are a great option. These four-day float trips launch twice per week in October and access the lower Grande Ronde in Washington. Deluxe camps are set up on great home pools and move each day. These mobile river camps consist of large stand-up double occupancy tents complete with cots and vestibules and a 12x14-foot wall tent for dining. Each trip includes a night's stay at Speywater Lodge on the evening of arrival. Optional day trips on the Oregon section near the lodge can be arranged before the float trip starts.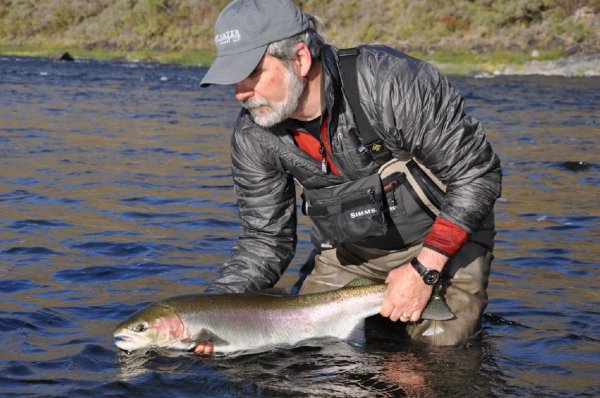 7:00 AM:
Breakfast and break camp
8:00 AM:
Depart for fishing
12:30 PM:
Break for picnic lunch
6:30 PM:
Appetizers and cocktails
Rods:
9-10ft single hand rods for line weights 6-8. 11-14 ft two-handed spey rods for line weights 5 – 7. The guides tend to favor lighter-weight spey and switch rods (5 – 7 wt.) for most of the fishing, but if you have an 8 weight spey rod that you like, bring it for casting in the wind or when long casts are required.
Reels:
Any good reel with or without a disk drag and room for 100-200 yards of 30 lb. braided.
Lines:
Single-handers: Full floaters like the Rio Steelhead & Atlantic Salmon line, Mastery wet tip type 4 sink tip line, Teeny 200, Rio Versi-tip system (or comparable interchangeable tip line).
Spey rods:
floating spey lines (like a Scandi head) as well as Skagit-type lines with interchangeable sink tips. The most popular spey tips will be type 3 or 6 of 160 grains or less. The Rio MOW spey tips were developed by the Speywater guide team (MOW = McCune, O'Donnell, Ward) and are very useful on the Grande Ronde. The most common MOW tips will have a 2.5', 5' and 7.5'sinking section. Many anglers choose to use a full floating MOW tip on their Skagit line as their floating line.
Leaders/Tippet:
9-12 ft. leaders tapering to 8- 10 pounds for floating lines, 4-6ft leaders of straight mono from 8-12 pounds for sinking lines. Maxima Ultra Green is the tippet material of choice.
Dry Flies:
Morrish Pom Skaters, Bombers (black and natural), Waller Wakers, Greased Liner, Muddlers, and assorted other foam and deer hair patterns in sizes 4-8.
Traditional Wets:
Green Butt Skunk, Freight Train, Signal Light, Purple Peril, Blue Charm, Silver Hilton, and assorted spey flies in sizes 4-10..