A protected marine are located 50 miles off of the southern coast of the Cuban mainland is known as Jardines de la Reina which is a remote archipelago of islands. Access to this area is very limited for divers, eco-tourists and catch and release anglers annually. With its naturally pristine habitat the marine life flourishes here. Many different species call this area home from bonefish, permit, tarpon, barracuda, jacks and snapper. The total fishing area that is allowed is greater than the Florida Keys, and with only a maximum of 15 skiffs allowed in the JDR at one time it is rare that you even see another skiff on the water while you are fishing. The fishing in this area is pretty consistent throughout the entire year. Tarpon under 30 pounds are always available, giant fish generally arrive in April and will stay in the area until the end of June or early July. September is the month that is used for boat maintenance and vacations for the guides since it's the high season for hurricanes.
Since Jardines de la Reina is so remote getting to this destination is a bit more complicated than other Cuban destinations but it is well worth the travel. Guests will stay overnight in Havana, they will wake early the next morning and take a 5 hour bus ride across the country. The bus will take a few breaks along the way and you can take in the sights from the bus as you make your way to the port of Jucaro. From here guests will either board the boat they will be staying on or a transport boat if your staying on the Tortuga. Then there is another 3- 4 hours of travel to the fishing grounds. The standard packages here will include five full days of fishing and often a few hours on your departure and arrival days.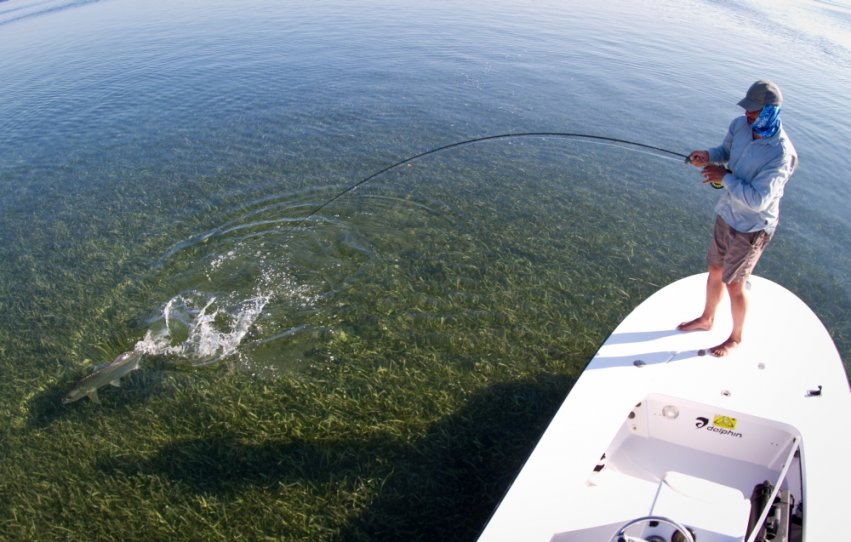 Avalon Fleet II:
The Avalon Fleet 2, which is the most luxurious and newest boat in the Avalon Fleet. This boat has been in service since April 2014. There are 10 state rooms each one complete with it's own bathroom, A/C unit, electrical plug-ins, and storage drawers. While this boat can accommodate more anglers they like to keep the group between 10 - 14 anglers. There will be between 9 and 12 staff on board which ensures you are well taken care of. After each day of fishing the staff will rinse all of the rods and reels in freshwater. Not long after that fresh appetizers and drinks are served. The kitchen staff strive to make the fresh and hearty of meals which can even include fresh made pasta. Anglers have a choice of having lunch on the yacht or on your skiff. This luxury yacht is complete with three different levels. The aft deck is where the flats boats can be put in or taken off the water. This is where your fly fishing gear is stored, cleaned and prepped for the next day of fishing. This deck is where you access your state rooms. From this deck and up a short flight of stairs you will find another aft deck. This deck is perfect for evening appetizers, drinks and sharing your fishing stories of the day. The dining area is located here and in an adjacent room with air conditioning with plenty of room for large groups. Then there is the upper deck which is very spacious and great way to cap off the evening with a perfect view of the sunset while enjoying the hot tub and a mojito (or your beverage of choice)
Avalon Fleet 1 is a luxurious yacht, which has been built with ultimate comfort in mind but also while feeling intimate and cozy. Total capacity is 18 passengers with 8 crew members. On this yacht with anglers aboard it is perfect size for 8 - 12 anglers. This yacht has 8 deluxe cabins which 7 of them have their own private bathroom. These state rooms are also appointed with air conditioning, multiple electrical outlets, plus drawers for storage of your personal items. After a fun filled day of fishing and up on the aft deck is the perfect spot to unwind while enjoying appetizers and beverage of your choice. The main dining area is also located on this deck and the top or upper deck is where the hot tub is located. This is the perfect spot to cap off a great day while enjoying the sunset, stars and hot tub. Considering you are on a yacht in the middle of Cuba the food is fresh an exceptional. Meals are often comprised from the catch of the day seafood and fresh squeezed juice is always available. For most of the year you can find this yacht located in Jardines de la Reina, but it does move down to Cayo Cruz during the peak of tarpon migration.
The La Tortuga is the first boat of the Avalon fleet, making this the original floating hotel of Jardines de la Reina. This boat is permanently moored inside a protected channel, making it more secure during bad weather and also more comfortable. This boat is 110 feet long and has two separate decks and has seven guest cabins. After a recent and extensive remodel all of the 7 guest cabins are now located on the upper level with the lower level housing the kitchen and dining areas. Each of the seven guest cabins come appointed with air conditioning, private bathrooms and showers. On the lower level there is an outside deck where you can enjoy sharing your fishing stories and even a fine Cuban cigar. There is ample storage for all of your gear along with electrical outlets located throughout the la Tortuga in both 110 and 220 volts. There is a generator located on island nearby, which means there is electricity 24 hours a day. There is also wireless internet that is always available and free of charge which is very rare in Cuba! Perfect for sharing your fish pictures with your buddy who did not come on the trip.
The Perola is a smaller yacht that has been nicely refurbished. This is a classic though, with it's beautiful polished hardwood floors and teak paneling. The circular stairway takes you down to the cabins or upstairs to the dining area and open air deck. This yacht has five very comfortable cabins with air conditioning. Most have private showers with plenty of hot water and storage for your personal belongings. The top deck is covered with open sides to enjoy the sea breezes. During harsh weather there are plastic side coverings for protection. There are a few rope hammocks that can be lowered from the ceiling for a fun way to relax after your meal while taking in the late afternoon sun or evening breeze. There is also a full sized salon with air conditioning located on the main deck which is available during inclement weather. Fly tiers will be excited to find a full size table in the salon, or enjoying the very plush couches with a beverage to cap off a day of fishing the flats.