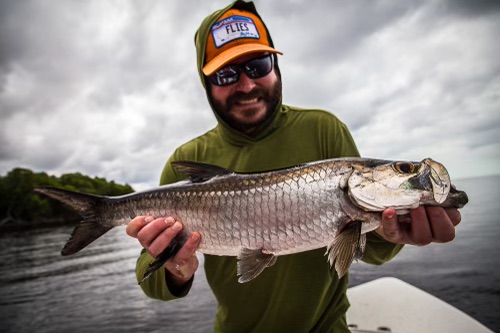 Photo Credit - Kyle Zempel of Black Earth Angling Co.
The first cold weather of November has settled into the Northern Hemisphere. For many anglers, this signifies the kick-off of the winter saltwater season. When traveling to the salt for what could turn into the trip of a lifetime, I can't stress enough the importance of being appropriately outfitted. Due to the remoteness of many destinations, it's impossible to get something you didn't bring along, and, oftentimes it's the little things that can make the trip go from a 7 to a 10. Read on for a list of gear that will ensure you make the most of your trip.
Tackle
This might be the easiest part of the packing list. There are plenty of rod and reel options dedicated to saltwater. Having a rod and reel suited for the demanding conditions can make the difference between success and failure when you need to make that critical cast. Plus true saltwater tackle is resistant to the damaging effects of the salinity in the water and air. Plain and simple, salt destroys gear. Having a rod with an aluminum or synthetic reel seat and a reel with a fully-sealed drag is ideal. And, if it's in cards, have backup rods and reels in case disaster strikes. After your fishing day, be sure to thoroughly rinse your rod and reel with fresh water to avoid any corrosion.
Clothing
Cover up! Everyone from colder climes love fishing in the tropics during the winter. Warm sun feels great, especially if you haven't seen it in weeks, but this can quickly turn into too much of a good thing. Fortunately there are great clothing options to protect you from the elements on your trip.
Top - My personal favorite piece is the sun hoody. The hoods offer ample protection, but are loose enough to be cool and comfortable. Put some sunscreen on your face and wear a baseball hat and you're good to go.
Bottom - Go with lightweight quick drying pants. Pants are great for avoiding sunburn and also help deter biting insects. Anyone who has experienced Doctor Flies in the Bahamas would quickly agree that pants are much better than shorts.
Hands Have a pair of light sun gloves. This is all about the top of your hands. Hours of holding a rod exposes the top of your dominant hand to some serious rays. Half-finger sun gloves with an exposed palm don't interfere with line or rod handling. You will not regret having this small but important piece of sun protection.
Hats - Baseball hats work well for most anglers, especially when combined with a sun hoody. If you're looking for more shade than that, choose a full-brimmed hat with an adjustable chin strap. Big hats are notorious for blowing off in a boat or high wind.
Rain Gear - A light and breathable rain jacket and pants are a must. These pieces keep you dry on bumpy boat rides as well as in the storm. They also act as great windbreakers when a front drops the temperature.
Underwear - Under absolutely no circumstance should you wear cotton when saltwater fishing! Treat yourself to some synthetic breathable underwear. You'll thank me later.
Footwear
What you have on your feet can be extremely important in the salt, particularly in wade fishing situations. If you're buying your first set of wading boots for the flats, go directly to a Flats Boot. They are supportive, abrasion resistant and have a non-marring rubber sole formulated for grip on coral. Many flats are riddled with sharp urchins, crabs, coral and other things that can tear up your feet. Combine the boots with a pair of guard socks. These neoprene wading socks come with a built-in gravel guard and help keep sand and marl out of your boots. If you know that you're going to be wading some areas that have hard sand, a pair of wading booties are a nice addition to Flats Boots.
When fishing from a boat, your footwear can make a big difference, too. Many anglers like to go barefoot on the deck of a skiff so they can feel the fly line when it makes its way under a foot. This option is great until it's rough. Something I've noticed over the years is that balancing on the deck of a boat in rough water works muscles in your feet that you don't use very often. It can be nice to have footwear that provides some support and a stable platform. Flats boots work, but can get a little hot when you're not in the water. I prefer a shoe, like the Simms Challenger Air Vent, to provide some stability and not cook my feet.
Packs and Bags
You just can't beat fully waterproof gear on the boat or when wade fishing. It's another defensive barrier against the corrosive effects of salt water and salty air. I use a waterproof sling pack when wading which doubles as a great boat bag. Most waterproof slings have enough room for a few fly boxes, all your terminal tackle, a light rain jacket and a spare beverage, or two. If you're primarily fishing out of a boat, a waterproof boat bag is the answer. You can keep all your gear in one place and don't have to worry about rain or boat spray.
Sunglasses
Good polarized shades are critical when fishing the salt. They can be the difference between seeing the fish, or not. Polarized brown or copper lenses are the best tints for shallow flats. It's a good idea to bring a spare pair in case you lose or break your go-to glasses.
Fly Lines and Terminal Tackle
If you're traveling outside the U.S. on your trip, assume your destination will not have any line, leaders or tippet...even if they say they do. These small items become worth their weight in gold when you need them. Have plenty of leaders and tippet to get you by. Also bring spare fly lines. Flats fishing can be very tough on lines. I once had a running bonefish wrap a line around an exposed piece of coral. I could see the coating of the line peeling off as the fish bolted! That was on day one of an eight day trip. If I didn't have spare lines, I would have been in serious trouble.
Fly Line Cleaner/Dresser
This tiny item is absolutely critical. Regardless of the age of your line, one day of fishing will leave it feeling a bit on the sticky side. After giving your gear a freshwater rinse, take the time to clean and dress your line. It makes a huge difference. Flies- Similarly just assume that you can't get any flies where you're going. Load up before you depart. Have multiples of likely performers. As long as they don't get wet, they won't go bad. High quality flies also make for a nice addition to your cash gratuity for guides in remote destinations. Self-Care Items- Bring plenty of sunscreen, SPF lip balm and aloe in case you get too much sun.