Lower Deschutes Stonefly Hatch
The season is here. The one you wait all year for. The big bugs on the mighty Deschutes River is a sight every angler must experience at least once in their lifetime. It is an exciting time to be on the banks of the Deschutes because it is the commencement of the dry fly fishing season, not to mention you get to use flies the size of your pinky finger. But it's not always easy and it requires some knowledge on types of water to look for, overall fly selection and leader/tippet and rod/reel setup. I am going to break down each of these areas so you can have the best chance of success out on the water.
When talking about where to fish, I often see people fishing water that generally is not productive during this hatch. Deschutes redsides will actually move into different lanes and seams specifically during this hatch to take advantage of the bounty. Overhanging trees with walking speed current will get consistent eats. The trout will strategically stack up in these areas to make it easier to get a meal. Generally for me, when I see a glassy deep pool with little current, I don't see it as a fishy spot. They do however hold in this kind of water during this hatch, so fish it those areas. Large deep riffles out in the middle of the river will hold fish but can be a harder cast and tougher to get a good drift. Typically, staying a few feet off the bank will provide your highest success rate.
Fly selection is an important aspect to having success during this hatch. The river see's the most amount of pressure it will see all year, during this 4 week period in May. The fish will get wary, especially if you are fishing around Maupin and Warm Springs (easy access areas). Venturing below trout creek you can find more untouched fish. There are three main types of stoneflies that hatch in May/June on the Deschutes: the salmonfly, golden stone and yellow sally. Salmonflies are the largest ones and are grey in coloration with an orange underbelly while golden stones are typically a little smaller and are yellow. Yellow sallies are small yellow stoneflies that typically don't start showing up in numbers until June. Trout love to eat all of these bugs, but knowing effective patterns given the type of water you're fishing, is key.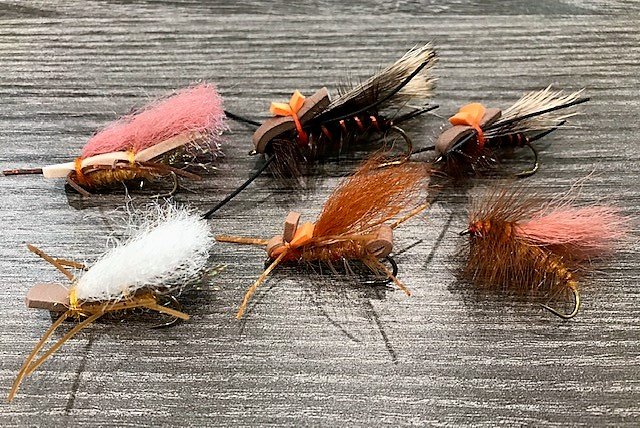 When fishing glassy water around trees, a hairwing style fly usually will get more eats than a foam body. My favorite pattern for this would be the Norm Woods Special or a Clark's Stonefly. When fishing in deeper riffles and runs, I like using a foam body Chubby Chernobyl as they ride higher in the water column and stay afloat better in choppy water. These flies are fished effectively dead drifted, skated/twitched or even drowned an inch below the surface.
I like a fast action 9 foot 5 or 6 weight fly rod for the Deschutes salmonflies. A 5 weight is good for mending and doing all the technical aspects to generate a good drift, but a 6 weight can be helpful to punch through the wind and deliver an accurate cast. As far as leaders, I use a 7.5 foot 3x leader straight to the fly. Leave the 5x at home for this fishing. 3x gives you the chance to land larger fish in heavy current and makes breaking flies out of the trees a little easier. Fish are not leader shy when they are eating these bugs, so the stronger the leader the better! Standard weight forward floating lines are the ticket. Early in the morning I'll run a small #8 or 10 rubber leg nymph beneath my big dry and you'll get a lot of nymph eats. By midday, you can cut the nymph off and fish just the big dry.
The big bugs are just starting to make their appearance in the lower stretches of the Deschutes, but it's only a matter of about a week or two before the hatch is fully on! Hot weather will get these bugs hatching and taking flight. Get out there and enjoy!