Species:
Native Rainbow Trout
---
Oregon's Deschutes River is the finest blue ribbon trout fishery in the Northwest. The native rainbows, also know as "Redsides", are known for their incredible strength. While they average 12 to 16 inches, there are enough 18 to 20 inch fish to keep it interesting. With that said, it's not uncommon to have a 15 inch fish show you the arbor knot on a five weight! More so, Deschutes trout love to feed on the surface... The dry fly fishing can be incredible.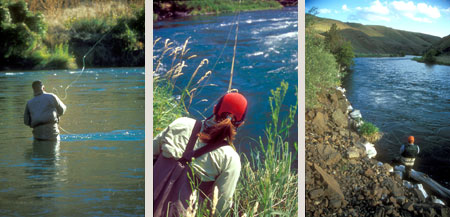 The best hatches occur late April through October. The Deschutes is famous for it's Salmon Fly hatch which occurs from mid-May to mid-June. While the big bugs get a lot of press, the river pumps out huge hatches of mayflies, caddis, aquatic moths, yellow sallies, & crane flies throughout the season. When the dry fly fishing is slow, a number of other techniques can be extremely effective. Dry/dropper set-ups, nymphing, and wet fly fishing all have there place on the Deschutes.
The wild and scenic Deschutes is a tail-water. Consequently, the river has consistent cold water flow. From Pelton Dam downstream, the river cuts it's way through 100 miles of immense high desert canyon. The massive basalt walls creates an impressive back drop to fish under. Wildlife is abundant. It's not uncommon to see bighorn sheep, blacktail deer, otter, mink, and a huge variety of birds. Make no mistake, this is rattle snake country, but they too are a part of the experience.
The biggest element that separates this river from most is that no angler can fish from a water craft. With that said, drift boats, rafts and jet boats allow anglers to access tons of water. A Deschutes River Boater's Pass is required for all water craft. However, with lots of public walk-in water a short drive from Hood River, a boat is not required to experience the wonderful trout fishery of the Deschutes.