Experience the worlds most consistent year-round fishing for bonefish and trevally with skilled, warm-hearted guides with typical air temperatures ranging from 73-84 degrees.
Anglers from all over the world have either heard of, been too or have this destination listed high on their bucket list. Which is fishing the beautiful waters that encompass what is known as Christmas Island. Christmas Island is actually the island of Kiritimati in the Republic of Kiribati. Kiritimati translates to the English word for Christmas. Hence the reason it's known as Christmas Island. There are numerous saltwater flats fly fishing destinations but Christmas Island is very unique. Christmas Island has an abundance of beautiful pancake flats surrounded by deep blue water. These hard sand flats seem to be endless, and with an impressive number of cruising bonefish and trevally, plus consistent year-round weather anglers from all around come to experience this atoll. Christmas Island Outfitters Guides are handpicked by the head guide Bita Kairoi. They are chosen not only for their overall level of experience and skills, but also their ability to be calm while under pressure, and plus their instructional abilities.
Anglers will begin their fishing days either departing via truck or catamaran for flats fishing days. You will be sight fishing for bonefish while wading these beautiful pancake flats . Christmas Islands plentiful bonefish generally average two to three pounds, however you could have opportunities for much larger bonefish that can be in the five to ten pound size.
Christmas Island Outfitters fly fishing guides are also among the atolls most experienced and passionate trevally hunters. Their desire to share this experience with their clients is just as much fun for them as you. Being there when their guest hooks into these monsters is a priceless experience each and every time. The Blue water Fishing off of these pancake flats puts you in the middle of amazing tuna, trevally and wahoo fishing. So whether your desire is to explore Christmas Islands endless flats or go for those blue water big fish you can find it all here.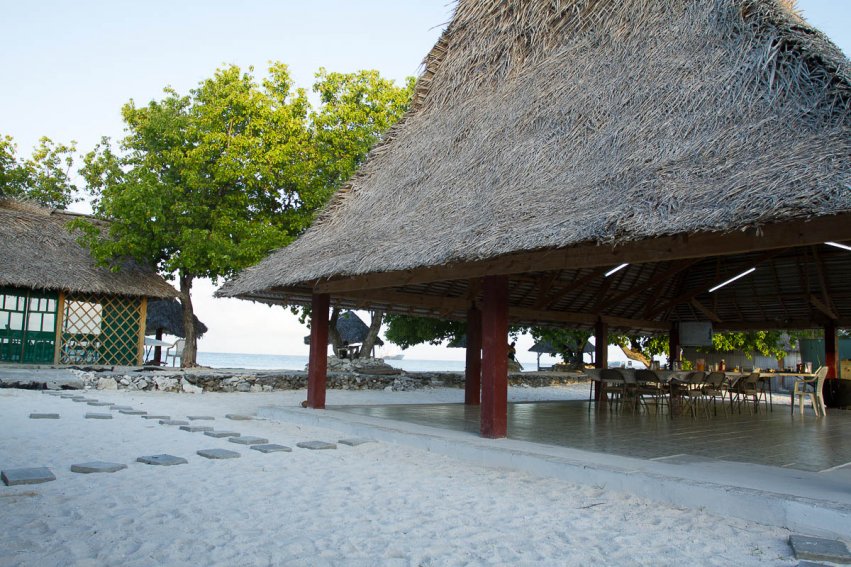 Sunset Horizon Lodge accommodations are rustic, simple but very comfortable. The lodge is located on an amazing coral beach that overlooks the Pacific Ocean. No matter if you come to Sunset Horizon Lodge as a saltwater fishing novice or you are very experienced you will enjoy an intimate and thrilling fishing experience unlike any other fly fishing destination.

Location:
Christmas Island (Kiribati) is located 1,200 miles south of Hawaii in the Pacific Ocean
Fishing Program:
Peter Kairaio is the head guide of Christmas Island Outfitters. He is recognized as one of Christmas Islands most recognized top guides. His team of guides are handpicked for their ability to spot fish, to be calm under pressure and very skilled anglers and instructors. To ensure that all anglers have an intimate experience Christmas Island Outfitters has created their program to accommodate only 12 anglers at one time. This allows head guide Peter to make the best plan for the following day of fishing based off of the weather, tides and guest desire of fishing. Departure time from the lodge can vary depending on the tides and where the destination for the days fishing is located.
Christmas Island Outfitters transport anglers to the many flats via truck and outrigger boats. These are both well equipped with rod holders, bench seats and canopies. Depending on where the desire is to fish, they will utilize these daily.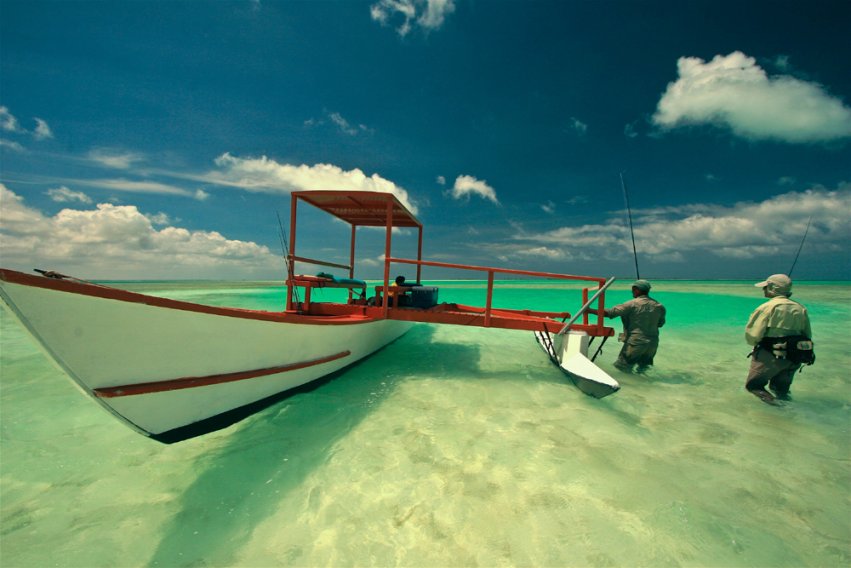 Fisheries:
Christmas Island is the worlds largest coral atoll and has brought forth the sport of chasing bonefish with a fly rod. Christmas Island is the best bone fishing destination whether you are a novice or advanced saltwater angler. With so many hard sand pancake flats to explore you can wade these flats all day with relative solitude. With the abundance of bonefish cruising these shallow flats anglers have constant opportunity to hook into bonefish. While this fishery is known for its bone fishing and trevally fishing there is an abundance of so many other fish species that provide an array of opportunities and many of these fish look like they belong in aquariums. While many of the bonefish are in the two to four pound size, the opportunity for chasing them in the five to eight pound size is pretty good. Christmas Island located just less than 200 miles from the equator means that their weather is consistently pleasant.
Accommodations and Meals:
Christmas Island Outfitters created a smaller operation to allow anglers to have not only more privacy on the flats but also with their accommodations. They are located on a stunning beach just north of London. They offer six double occupancy guest rooms. These are designed to house two anglers per room with their own private bathroom. These rooms are rustic, simple but comfortable with enough space for your gear and each unit has its own AC unit as well. Your room will receive daily cleanings along with restocking of the refrigerator with sodas, beer and water every day. The meals that are served mostly contain fresh seafood (snapper, tuna, wahoo, lobster and shrimp. Along with these fresh proteins they also utilize chicken, pork, rice, pasta and sometimes steak may be available. While fresh fruits and vegetables are really hard to keep in stock.
While many anglers visit Christmas Island as a whole it is still really primitive. Accommodations are clean and comfortable but not considered a luxurious destination. Consider the facilities more like a "fish camps vs. a luxury resort. But, with that said anglers receive clean and comfortable accommodations and treatment from the staff is top notch.
Itinerary:
Monday: Arrive Honolulu and overnight at your elected accommodations (independently arranged, not included).
Tuesday: Depart Honolulu and arrive at Christmas Island where you will be transported to the lodge.

Wednesday through Monday: Six full days of guided fishing.
Tuesday: Depart Christmas Island and arrive Honolulu* for your connecting flight home or points beyond.
Note: Please be aware that this flight crosses the International Date Line, so when you depart the island it will be Wednesday, and when you arrive in Honolulu it will be 10:50 AM on Tuesday. If you are planning on connecting with a flight home from Honolulu the same day, please do not book a flight prior to 1:00 PM to ensure a smooth connection. Anglers will be required to clear customs and immigration, collect baggage, and re-enter the security checkpoint.
Typical Daily Schedule:
6:00 AM: Wake
6:30 AM: Breakfast
7:00 AM: Depart for flats
8:00 AM: 4:30 PM: Guided fishing
5:30 PM: Return to the lodge
7:00 PM: Dinner
Note: Please keep in mind that your daily schedule will vary in accordance with tides and your fishing desires.