Customer Testimonials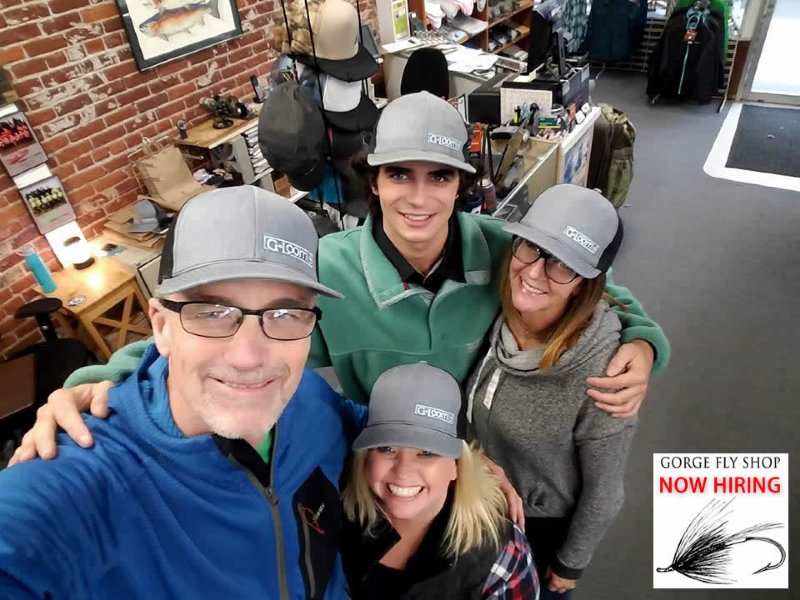 We have received many great responses from customers over the years all across the World. So we decided to collect some of our favorites and share them with you. Please glance over some of the testimonials (kind words) below and if you would like, we encourage you to leave one of your own. Your feedback is very important to us. After all, you are the ones that make it all possible!
Thank you, Gorge Fly Shop Team!
---
Thank you for the continued support, please leave us a google, yelp or email us a review.
---
Awesome service: No complaints. I got what I paid for. Staff was really knowledgeable and helpful. So far so good with the reel. Haven't really caught any big fish to brag about, lol. TP
---
Hi Lyndsey, I'd like to Thank You profusely for what you, GFS and Simms have done for me. To say I greatly appreciate it is a massive understatement. All of you are a very special group of people, it has been a distinct pleasure working with you on this. I looked on your website and I'd like to provide you with an email testimonial that you can post on your website as you deem appropriate; I ordered a pair of Simms G4Z's from John at the beginning of October. It was a fast and enjoyable transaction. Making a long story short, within a couple of weeks of receiving them, I noticed a small blemish in them. It was small enough that I was torn as to whether or not I would even contact GFS about it. OTOH, I spent a lot of money for the best and it just wasn't going to set right with me over the long haul. I conversed via email, then by phone with Lyndsey (who called me within 15 minutes of receiving my first email about the situation). Lyndsey, you are an absolute sweetheart, I can't thank you enough for your massively "over the top" customer service ! I cannot remember another customer experience that I have ever had in my entire life that has been better than how Lyndsey, John, GFS and Simms looked after me. I can't express how ecstatic I am with my choice of Simms G4Z's, Gorge Flyshop and Simms in general. You will be seeing my repeat, word of mouth business for many years to come ! I really am just blown away by how quickly GFS and Simms took care of me. This is what happens when you buy from the best, you get the best ! Kevin Thank You again !
---
I wanted a 8 and half foot fly rod with more of a classic medium action but with enough oomph for nymphs and light streamers. Lots of options out there of course, but the fantastic team at the Gorge helped me choose this rod from the numerous options. After casting it, I have no regrets other than the fact i won't get to use it for several months (hence 4 stars only for the time being). Once i do get to fish it, i will update this review if possible or post another one. Although not a complete review, I thought the service provided by the Gorge staff warranted a review in addition to my apperception.
Dave
---
Thank you!: Great and knowledgeable people! Great service! - Michael C.
---
Great Customer Service: My contact with the Staff at Gorge Fly shop was excellent. Very helpful, took the time to answer all of my questions regarding my reel selection, Tibor Everglades. Also, I received a quick message informing me that the line I selected needed to be back ordered. Upon learning that the shipment was time sensitive (scheduled fishing trip) they were very understanding and helpful. Travis spent a considerable amount of time on the phone inquiring about the rod that I was going to use with the Tibor reel. With his help I selected a different line which came within two days of my reel shipment and I could not be more satisfied. New line was actually a better choice for the reel and reel. Thank you, great experience. Donald C.
---
Just want to say thanks to Travis and you all for the time he spent on the phone figuring out what I need and for getting me the video. I would have been lost without your service. Paul B.
---
Simms Flyweight Wading Boots - These boots are wonderful in that they are light, comfortable and great value for money. Can't go past these high quality boots. The Gorge Fly Shop's service is also second to none and of the highest order. That's why I shop here!! - Gavin
---
Excellent reel. Due to the weight (light), it can be used it on 8' 5/6 wt rods and 9' 3/4wt. This is a very universal size. Can't beat the deal from Gorge Fly Shop with the free fly line. Thanks, Guys. - John S.
---
Some of our favorite testimonials for 2019.
---
Great Deal: Got a great deal on a fly rod ! And it shipped like the same day. I'll shop with the Gorge fly shop again. - Dean B.
---
After considerable research into a new Spey Rod both Travis and John provided valuable insights without any consideration if I was going to buy from them or not! They helped me make a confident decision going with a BEAUTIFUL BURKIE! Have dealt with GFS previously and have been extremely satisfied with their great customer service. Can't believe I need more rods or reels but if I do they will be the first place I look to. - Mike S.
---
Great service and advice: I have spoken with several people at the Gorge Shop and they are friendly, knowledgeable and willing to take the time to advise you on what you need for your objectives. I have purchased 3 rods as well as other equipment. My Loomis Asquith arrived at my home in less than 48 hours. I live 3,000 miles from Oregon. What else can I say? Of course I will make purchases again from the Gorge fly shop. Re the Asquith. It looks great. I won't fish it until June 2020. I'm confident it will do the job. - James H
---
Thank you for always being fast to ship every item I've ordered over the year . Great service and great products . Thank you .- Bruce G.
---
Hello, I received the Loomis Asquith 990-4. It looks great. This is the fastest delivery of fly fishing equipment I have ever experienced. Oregon to Maine in less than 48 hours. I'll be back for more . Thanks. Jim H
---
Dear Gorge Fly Shop, You guys Rock as I received the goods today. Simply amazing service you guys provide. That's why I shop with you guys. Thanks again and have a great week. Kind regards, Gavin
---
Sage X: Just purchased 2 Sage X switch rods. These guys are the best. Travis spent a ton of time with me on the phone understanding my specific needs and then gave complete recommendations on the right shooting heads and running lines. First Class operation! Joe E.
---
Hi Lyndsey, This kind of service is what earns customers for life. You can be sure the next thing I need will come from your shop. I will also be sure to recommend you to any of my friends who need gear. Thanks again Jim A.
---
Hi karrie I received my order on Wednesday. Thankyou very much for your swift service. It only took 7 days from order to recieval. Iv recommend your store to two of my friends. Very happy with my new boots. It's nice to find a store who can deliver what I want. All the best from Queensland Australia. Tim and Stacey.
---
Charles Bell Great Product and Customer Service I ordered a Simms Gortex Jacket and Simms bag from Gorge Fly Shop. Lyndsey was AWESOME in assisting with my order. She answered all of my questions and made sure my items shipped on time for my upcoming trip to Mexico. I will definitely order here again!!
---
Dennis Grandy Online order, Loomis spey rod The Gorge fly shop staff was really knowledgeable and efficient in getting the Loomis rod to me. They took time to get the right line dialed in and sent it promptly. The rod was out of stock, so they arranged direct delivery from the factory. I appreciate your excellent service and I love casting with the rod!
---
Karrie: Thanks for the notification. I am always impressed with the great service I receive when making a purchase from your shop. I've driven to your location to get fitted for waders, ordered online, and ordered by telephone, and always receive excellent advice and service. Travis was very helpful on this recent order. It is a pleasure doing business with a company that has such a great team. Best Regards, John
---
2018
---
Hi karrie I received my order on Wednesday. Thankyou very much for your swift service. It only took 7 days from order to recieval. Iv recommend your store to two of my friends. Very happy with my new boots. It's nice to find a store who can deliver what I want. All the best from Queensland Australia. Tim and Stacey
---
Lyndsey, LooKing forward to the shipment! The nippers are a birthday present to my son Dylan. He is driving down from Atlanta and will arrive here for his birthday party tomorrow evening.. Thanks again for your help in getting this shipping error cleared up. I like to help support small business fly shops, and you will get more of my business. If you ever make it down to West Florida during tarpon season (middle of May through the end of July) I can hook you up with an excellent tarpon guide named Adam Hudson who books through Apalach Outfitters out of Apalachicola Florida. All the best! William R
---
Thank you SO much. I received my order today and am now set for my trip this weekend. Simply amazing service. Again, thank you. Vince B
---
Hello Patty and John, I just wanted to thank you, and express my appreciation for your outstanding customer service. I love the fly rod. I will definitely be a repeat customer.
---
Yep. Just got them about an hour ago. Looks great! You guys are the best! Thats why I keep buying all my stuff all the way from Hood River since I moved. Thanks again! Todd
---
July 2018
---
Great seller: Gorge fly shop had my Nautilus spey reel at my door with in a week. I live in Canada and I can't find any fly shops here that compare. Thanks Tim M.
---
Thank you Patty. everyone I have dealt with at the gorge fly shop have been very helpful. Stu H.
---
Excellent service: The items I ordered were exactly as advertised and came in less than a week. Fair price. Would do business with Gorge again. - Tom S.
---
June 2018
---
Great product, great customer service: I purchased these waders as a surprise anniversary gift for my husband. Patty from Gorge fly shop when above and beyond to make sure they were delivered in time for our fishing trip. He wore the waders and is extremely happy with them. - Andrea D.
---
I must tell you, you guys are the best fly shop I have ever dealt with. I have only made two orders with you, since finding you a few months ago, but your prompt service, front- and back-end, is amazing. Sometimes I feel that many flyshops and other fly-related business folks (bamboo rodmakers come to mind) treat business from Mississippi as if we are all hicks and will use rods and tackle only for crappie fishing with crickets - - or worse. I have a few horror stories that are almost unbelievable. But you guys get right after it, and I really appreciate it. Thanks for the attention. Craig S. T.
---
Hi John, Thank you for your email, very much appreciated! I'm over that issue and moved on! It's hard to get a good reliable fly shop that talks my language, you guy's are top notch and that's not a statement l use lightly. I have had some real nightmares in the past with others, you wouldn't believe. I wouldn't let one small mistake cloud my judgement, you are my main go to shop for all my fly fishing saltwater & fresh & still are!! My only other purchases for my fly fishing is for fly tying which is mostly from the UK! Please thank Travis for the recommendation for Asquith, l must have watched his video half dozen times! I love Loomis rods & this ones a beauty! Also Cody for the advice on the Smith Optics. It was some time ago but l kept the info and he was spot on! Plus for sending Greg's blog on Nautilus Reels. l must have missed it when it first came out! It really cleared up my confusion on that point, so thank you guy's. Lastly, it takes a big man to apologize the way you did so thank you for that! I'm hoping to retire next year to go fishing with my brother in law in South Africa! If we catch anything l will certainly send pics! Best regards John C.
---
May 2018
---
great service: Being a novice fly fisherman, I spoke with one of the stores reps before I purchased my new equipment. he was very helpful and patient. after placing my order, the rod and reel came expedited delivery (at no extra charge) within 2 days from west coast to east coast. - Ken W.
---
Simms G3 boots and Gorge Fly Shop: These are great boots, but more importantly I know I can call Gorge Fly Shop and tell them what I think I want and they advise me and I truly get the best product for my needs. I rely on their expertise on almost every purchase because they truly put me first. - Terry W.
---
Gorge Fly Shop: There are many option when buying fishing gear on line. I tend to shop with the Gorge Fly Shop for the majority of my major and minor purchases. The Gorge Fly Shop is a straight forward, high quality, efficient shop that stands behind all of it's products. The Gorge stands behind all of it's sales and will make it right, no questions asked. Finally the staff is willing to answer any questions with straight forward answers and opinions when asked. Steven Z.
---
1.) No complaints ever: Gorge always has what I need, and fastest shipping.Usually same day shipping.
2.) Order was placed, filled and shipped all in same day.
- Brian S.
---
Hi Patty, Thanks for the outstanding customer service. I greatly appreciate it. I'll let you know when I receive the rod back from Burkheimer. Thanks again and have a wonderful day. - Joseph
---
April 2018
---
Exceptional service: As always, Gorge Fly Shop came through. The folks dug around in their basement to locate this hard-to-find rod. It will be auctioned off at the annual fundraiser of the Truchas Chapter of Trout Unlimited in Santa Fe, NM. Even a rod rep didn't believe we actually had found it somewhere. - T. Cole
---
I recently bought a hardy marquis from you guys kind of scared to see the outcome if it would fit my rod how long it would take to get here, since I do live in Ohio etc etc..I think I purchased it saturday or perhaps friday..it was at my door by monday. Amazing. So what would any person do? I took off work tuesday to go fishing of coarse. Third cast I landed my first steelhead (or big rainbow trout, but thats a story for another time lol.) on a two handed rod. I am ecstatic! Thank you guys so much for being so fast and efficient! - Brandon
---
Echo TR: After placing my order with Gorge Fly Shop during a North Easter blowing snow here in Maine I anxiously awaited its arrival. Imagine my surprise when a day and a half later it was sitting on my front porch. Outstanding product and service! - J. Rogers
---
When I buy larger items like rods and reels this is the place to shop. Great prices and new name brand items. They always arrive in about 3 business days. on my last order they even put the backing and line on my new Sage reel. Perfect . Now all I have to do is go fishing. - D. Pipes
---
March 2018
---
Hello Patty, hello Lyndsey,
The Abel reel SDF 4/5 in color deep blue has just arrived. I think this is a tool, which my grandchildren can still use sometime in another live. Thank you for your service. Everything was perfect. Please give my best regards to Travis. Cheers and talk to you soon. Freundliche Grüße / kind regards Edmund L.
---
Absolutely outstanding service! Pulling into my driveway after work today to find my new rod, head and running line sitting on the front porch wagging its' tail like a Beagle ready to hunt! If this is how you folks run your business, I'm all in ! Thanks, Jon M R.
---
Can't wait!! - I ordered an in stock Winston bamboo fly rod. Even though it will be 2 days before I actually receive it, i wanted to write a review. Anyone that has cast and fished with a Winston, there's nothing I need to say about the caliber of rod one of these are. I expect nothing different from this particular rod. I just wanted to mention the staff at Gorge Fly Shop I had the privilege to work with on the purchase of this rod. Truly enjoyable, eager to address any questions I had, prompt in responses and I couldn't be happier with the business I purchased from. I feel confident that if I were to have questions after the sale, I would still be treated as well as I was before the purchase. I'll continue to be a customer of this business!! Thanks again guys (and girl :-) ). I'll come back and actually review the rod, hopefully after fishing it this weekend - Tightlines.
---
Excellent Online Experience: Gorge did a good job of shipping the rod quickly and keeping me updated via email. Can't wait to use the rod in Belize!! - Donald S.
---
February 2018
---
Great Reel: The Gorge Fly Shop squared me away with a sharp looking fly reel. Great customer service with a great product. - Eric K.
---
Hello Gorge Fly Shop: I just wanted to confirm that my recent order arrived today and everything is as expected. Thanks for the reasonable prices, and efficient and prompt service. Living up here in the Canadian North I've got to order most of my fly fishing equipment, and try to order from brick and mortar local shops as much as I can. I will definitely buy from you again. - Scott D.
---
Great Reel: I like the reel and would/may buy another. I've owned a smaller Animas and foolishly sold it. I could have purchased it anywhere since it was online but the folks at the Gorge are great. They are my go to for online purchases. - Jason T
---
February 2018
---
Great service: I love your Customer service. I find fast answer every thing I need. From now on. Gorge is my favorite shop in US. Thanks for everything!!! - Jose L.
---
December 2017
---
Gorge Fly Shop - the best customer service: I emailed GFS to inquire about a custom reel spool order that I wanted to give as a xmas present. One of the shop gals contacted me within a couple of hours. She organized the order and suggested a few options that would be best for the spool and line. I received the correct spool, with the correct line loaded in time for xmas. Not only does GFS have a great online store, the staff goes above and beyond to help. Love GFS! Happy New Year. - Jane T.
---
Best online service: Fast shipping, easy online purchase, arrived fast, box was a little beaten up, blame that on shipping not shipper. Product in perfect condition, packed well. Would recommend this shop. Thanks. - Robert A.
---
GFS team, thank you for your "first Class" level of customer service, Iam toughly impressed! Your continued follow through is something that is rare in this day and age, thanks again! Scott is repairing the rod for free which is exactly what I was hoping for, it will be finished here in a couple week. Sincerely Steve P.
---
Hi John & Patty, Thank you sooo much! I received your package today. Amazing service from you guys! I'll definitely do business with you again. Have a Merry Christmas and a wonderful 2018. :) Kind regards, John F.
---
Hi Travis, Just a quick note to say my rod arrived safe and sound (invoice #; 22081) Iam very happy with the rod and the price, the wife wants to wrap it and put it under Christmas tree, I've got news for her, Have a safe and Merry Christmas to you your family and staff. TIGHT LINES
Cheers From Down Under. Kevin C.
---
5 stars! Very happy customer. I have a Sage VXP 5wt. and love it. So I started looking for an 8wt. for bass only to find out the model was discontinued. After a lot of searching I came across Gorge Fly Shop. They had what I was looking for with the best price with no sales tax and free fast shipping. I use SA Siege line on both rods and the combination works great. Leo S.
---
November 2017
---
Hi Patty Thank you for following up and for your great customer service. Adam's rod arrived, it had been delivered to the wrong address by the courier so took a while to track down. We posted a review on your website and will definitely recommend you. Kind Regards. - Heather
---
Just got off the phone with a lady who was very helpful in assisting me in placing my order. She was very knowledgeable and patient and I truly appreciate her taking the time to walk me through the process to ensure my order was correct. Thanks again and I am one very pleased customer thus far. - Art O.
---
Thank you Patty. Please pass on my best wishes to Travis. I take my hat off to him for having a dream and turning it into reality and surrounding himself with a fantastic team! Thank you all for your help and support. My very best wishes to you all, Stephen
---
Received the rod yesterday. Very happy with the rod and your service. It was a pleasure doing business with you. Very much enjoyed dealing with Steve in your shop. Thanks again. - Forrest H.
---
October 2017
---
Same Great Product - Same Great Service: The Gorge Fly Shop has, for some time now, become my go to for all my fly fishing needs. The products they provide are top-shelf and yes their prices are comparable to excellent...but i value their quick attention to my order. In nearly every case the item(s) are packaged and shipped same day. Their products are great and the service is outstanding...what's not to like. - John D.
---
Sage One 486-4 purchase: First of all, the Gorge Fly Shop is ridiculously effective to work with ... helpful, timely and very competitive pricing. I recently purchased a 8'6 - 4 wt Sage One rod plus a Sage 4230 reel (both on closeout) from Gorge and couldn't be happier. Loaded with a Perception Gold Rio 4 wt line and this rig casts itself. Much of my fishing is in the NC mountains (ie. 12-16 inch rainbows, browns and brookies) and this combo is perfect. Short casts with delicate presentation are a piece of cake ... and when you need it, 60-70 ft casts are absolutely no problem. In addition, roll casting which is a must in the rivers I fish, is spot on. My Winston boron III LS is now my back-up. Gary D.
---
Great Service: I was looking for a new 6 weight for an upcoming trip to Chile. I bought it from The Gorge Fly Shop and was so impressed with the service I upgraded one of my trout rods as well. - William S.
---
September 2017
---
Patty, Your customer service is top notch. Thanks again for the follow up. Sincerely, Jordan
---
Best customer service in the biz: The folks at Gorge are always on top of every order. If they have a question about your order, they call, and follow up. I can't ask for more! Oh, the product is always as I expect too! - W N Eubank
---
Haven't had a chance to try the line but the shipping was amazingly quick! I will definitely be ordering from gorge fly shop in the future. Larry O.
---
Hi John and all the guys at the shop , I was watching european news from australia tonight and they where showing fires on the Hood River. As I have purchased a number of items from your shop and have spoken and corresponded with you extensively I was concerned about you and the shop I hope you are all well and the community is ok. Kind Regards, Loyal ( down under customer ) Nick
---
I want to compliment your business model. I spoke with a sales representative twice before purchasing a Sage fly reel. He was informative, pleasant and patient. Purchasing on line was a snap and I accepted delivery in 2 days. I have told others of my experience. Thank you. - John T.
---
I was having trouble getting Spey and Skagit gear in Australia. So far I have made 3 separate purchases A Sage Accel 6126 Spey rod (absolutely love it), Rio Scandi head and running line, OPST Commando head and Lazer Line for my 6 weight single handed rod. I cannot believe how quickly you have shipped my orders even on a Sunday. In most cases I have the goods a week after the order was placed. Keep up the good work !!! - Steve D
---
Hello Patty / Gorge Fly Shop, This city slicker received the Winston Nexus and is one happy boy! Thank you for the deal. Thank you for the prompt delivery. I will tell all my buds about the excellent customer service I received from the Gorge Fly Shop. Sincerely, James H
---
August 2017
---
Just wanted to confirm I received the reel yesterday. Thank you very much for your help. It's exactly what I wanted. Excellent service! Best Regards, Chris
---
I just wanted to email and say thank you for the phenomenal prices, support, fast shipping, and quality you all uphold at Gorge fly shop. I will guarantee myself as a steady return customer with you folks. Thanks. - Jarek
---
Hi, just wanted to say thanks. The reel is second only to your customer service. Always a plesure doing business with you. Best regards from Iceland. Gisli
---
Got my order and I must say Thank You! It's perfect! Now off to Alaska! Very satisfied. - J. OConnell
---
Wow your customer service has been top notch with the 2 rods I got 2 weeks ago and the internet orders I made. Thank you very much it hasn't gone unnoticed. Best, Greg M.
---
July 2017
---
Just received my subject reel, and it's a beaut. Thank you for the super easy transaction and for setting up the reel with backing and line. You can be assured that when I need any other fly fishing paraphernalia, I will be contacting you folks. Thanks again and best regards, Tom L. Gilbert, AZ
---
Hi Patty, I have safely received my parcel today. Thank you for your excellent service as always. Best, Hiroki
---
Thank you for going the extra mile when there was a issue with ordering the boots i requested. Nice to know there are still people that give a crap..Hope to maybe doing business in the future. - Mark
---
Hi, I have not had the opportunity to use the items in my latest purchase from you, so would be out of line making up a review. However, that said I would like to submit a review of your service. Recently I ordered a fly line through my local fly fishing shop here in Canada. Four weeks later it was in my hand. A week ago, on the Saturday afternoon, I placed a order online with you for four fly lines. They were in my hand on thenMonday afternoon!!! Admittedly I had to walk across the line to get them from my drop box but that is only a 3 minute walk. The store here in Canada is forty minutes drive each way and requires crossing a toll bridge too. Your service, as well as that of US Ground shipping, is a stounding. Also of note your free shipping on orders over $40 goes some way to mitigating the difference between our dollar's value. Thanks much for you great service. Best Regards, Phil E.
---
Outstanding Service: I was very happy with the fast, friendly service provided - will buy again from Gorge Fly Shop. Matthew C.
---
June 2017
---
I live in Australia and have made several purchases from the Gorge Fly Shop over the years and have never been disappointed with any aspect of the transactions. This is the bench-mark for all other tackle retail outlets. Cheers - Tony
---
Good morning Lyndsey, Travis, Ryan and John, This order has landed here in good condition as usual. Many thanks for your help and good service. Kind regards, Richard and Margaret H.
---
Thanks Patty, Love the great customer service you guys provide - A+. All the best, Nick.
---
Insanely fast shipping! They sent my new streamer rod and line across the country in two days free shipping. I'll definitely do business with them anytime. - Joe F. (Via Facebook)
---
May 2017
---
The culture in everyone is fantastic here. I deal with them from 90 miles away (each way) or drive there just to deal with these folks. Everyone is totally service oriented and can take a joke. You will find no better place with the knowledge and personality that each one of the people here have. Terry W.
---
April 2017
---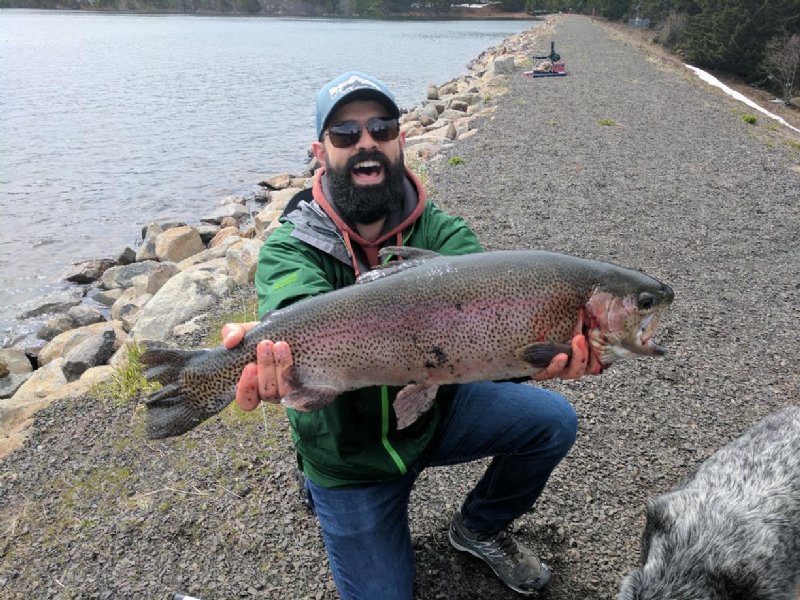 Hello Gorge Fly Shop,
I just moved to Hood River in January and have been visiting your shop frequently for trout and steel head gear and pointers. I want to thank you for the Redington Crosswater 5wt that I purchased from you when my other trout rod broke. I caught the biggest trout of my life on it yesterday at Kingsley Reservoir. 9lb. 8oz. 28". I was fishing Powerbait and noticed some smaller fish chasing my sinker as I retrieved line so I thought I'd try some streamers on my fly rod. After about ten casts I noticed a decent shadow in the water near me. I put the fly right in front of her, let it sink and she hit it right as I started my retrieve. Definitely the pinnacle of my trout fishing career. Special thanks to Cody for recommending sculpin streamers. Thanks a million, Jory
---
Hi Lyndsey, Rayan and John, I would like to thank you for all your effort, help and advise. I just got a note fro USPS regarding 2-days shippment, all clear now. Thank you very much again and take care too. Best, Ryszard
---
Thank you so much Patty. I really appreciate the great customer service. Check out Yelp for my updated review. Gregg
---
I received the Airflo running line in the mail and picked up the rod at Burkheimer's. They gave me the Nickel tour. The rod is beautiful and I can't wait for my first steelhead on it. Thanks for the advice and arrangements to let me pick up the rod. I enjoy your facility and the expertise you provide. Sincerely, Ron O.
---
March 2017
---
John & Ryan, Thank you both for your time, effort and knowledge. These two beauties were caught on the Deschutes just south of Maupin on a green Copper John. Hopefully I can send you some steelhead pictures soon. Jory
---
Simms wet wading socks Purchase
I bought all my gorge gear for an up coming Christmas Island trip and I was very impressed by how quick the order was processed and sent to me in two days! The Simms wet wading socks will help protect my feet in all day wet conditions- looking forward to visiting your shop later this month - Dave P.
---
February 2017
---
Hey Ryan, Awesome, thanks for the advice - this is why I tend to buy all my high-end gear from you guys, even if you are on the other side of the planet! I spoke to a store in NZ, and they were the ones who tried to sell me the Lamson. And while they are good reels - I have had a few issues just in the freshwater with them. So I wasn't completely convinced as to how they would hold up in the salt. The Sage on the other hand I understand are pretty much bombproof. - Damon
---
Thank-you. I appreciate how good you are to deal with. I have bought several items from you in the past and will continue to do so. John
---
December 2016
---
Galvan Fly Reel: The reel is everything that was advertised. The shop owner took my order. He was not only helpful, answering my many questions but friendly and knowledgeable as well. This is a first rate fly shop with a large assortment of gear and one of the most knowledgeable staff you could find. I have visited their shop in Hood River, Oregon several times and it is always fun to go there. Highly recommended! - Dennis A.
The Gorge team Thanks again for all your efforts to get my jacket down to Australia before I headed down to South Island Zealand The jacket worked a treat folding up neatly in my fly vest when it was not being used , which was most of the time . One thing down there ,is that the weather is predictably unpredictable ! We experienced challenging conditions and searched for clear water . We found a nice meadow creek with a short catchment where is managed that six pounder ( not the best photo). - Regards Bob R.
---
November 2016
---
Sage One: Living in South Australia with limited fly shop access we often have to source our equipment from overseas. I have always found the Gorge Fly Shop professional in their dealings, prompt with the shipping who provide excellent service. I have no hesitation in recommending them to anyone seeking to purchase from them either locally or internationally. Regards Laurie
---
September 2016
---
I have never written a comment regarding a vendor before, however this shop really earned my endorsement. Their expertise, friendly staff and excellent customer service will keep me coming back. Very well done and if I am ever in the area I will definitely stop by to meet them in person. - George H.
---
August 2016
---
HI, Just wanted to pass along a big Thank You for selling me the frame I needed for my Lamson Litespeed IV (#2). I know Lamson makes it hard on dealers to replace that part and I really appreciate the fact that you guys (in this case girl) made it happen. Travis you have a wonderful wife who knows what customer service is. Having been in the customer service with my own business in the past I really appreciate the transaction. You can be sure that I will recommend your shop highly and will make every effort to do business with you guys in the future.
Thanks again. Mike S. - Santa Fe, NM
---
Travis, I've now bought products from Lindsey, John and Ryan.You have a great crew- they all are knowledgeable and very concerned about getting my purchases to me in a very short time even when not in stock. Keep up the good work. Ed K. - Sandy, Utah
---
March 2016
---
Hi Patty The shoes arrived yesterday. Terrey is very happy with them. Thank you for your excellent and friendly service. I've posted a review on your web page. - Kind regards Sharon
---
February 2016
---
I purchased 2 Lamson Guru reels, line and backing all at amazing prices!! This was the absolute fastest service and easiest website to navigate I've ever been on!! Plus, they shipped my order the same day I ordered it. Crazy right!?! I made a mistake in ordering my backing and the awesome staff contacted me right away and fixed my problem (totally my fault not theirs). These guys were very professional and courteous. You have my future orders as well as all my buddies I've told about you. Keep it up guys.... - Jonathan H.
---
Just a line to say thanks for the excellent service. Ordered a lamson guru on closeout and it arrived in new York yesterday. That was fast! Thanks. - Terence M.
---
November 2015
---
Excellent Service I can't say enough about the people and service at Gorge! They are friendly and you are kept informed of the status of your order throughout the process. They'll get more of my business! - Scott B.
---
October 2015
---
OUTSTANDING SERVICE After an internet search, I found Gorge Fly Shop where I proceeded to purchase a Nautilus NV Monster Fly Reel. The ordering process was seamless and EASY. The online ordering system worked perfectly and within a few days, my reel arrived! I would highly recommend Gorge's to anyone interested in purchasing fishing gear! - Katherine O.
---
September 2015
---
Patty,
You and your team do a great job!  Thanks for the quick turnaround and follow up email.  I've done business with Gorge Fly Shop numerous times now on high end reels and will keep working with you because you really care about the customer!
Thank you and until next time, take care.
Marv
---
January 2015
---
Good description of product on line. The shop has a great selection of quality fly fishing products. They often have specials with great prices. I've purchased a few items on line and have been very pleased with the timely shipping and product. I've also been to the shop and was pleased with selection of quality gear and quality service. Keep doing what you do! Great experience! - Taken from customer product comment
---
August 2014
---
I ordered a reel from the shop back in March. For a variety of reasons the reel was backordered, then subsequent promise dates were missed through no fault of the shop. I could have cancelled the order and acquired the product through different means along the way, but didn't because it was so obvious Travis, Lyndsey and the team were doing everything they could to acquire the product. That kind of effort needs to be rewarded and I would certainly recommend giving them a try. By the way, the reel is way cool, too! - Dan Ellis
---
July 2014
---
My experiance with gorge fly shop is AAA++++ i bought two galvin reels from them they ship fast always kept me in the loop with my ordering keep up the awsome work guys you have a customer for life hope every body follows me.


Curtis C.
---
June 2014
---
I placed an order for a Scotty Fly Rod Holder with Gorge Fly Shop and received excellent service. Their site was easy to use, the price was very competitive and I received my product in record time. When the time comes for me to purchase additional equipment, I will go to their web page first, knowing that I will be treated in a professional manner and not over pay.
George A.
---
Thanks! Honestly, the reason I ended up placing this order is because three weeks ago I placed a special order with Minturn Anglers here in Vail and never heard a word for two weeks. I went in Monday to inquire about the status and was told by the gentleman that originally helped me that he had no idea where the order was, but that he would follow up and call me with the status. Tick, Tick, Tick.....three days went by with no word or call and so.....I googled Korkers Wading Shoes and got to your website this morning. I've heard more from you in three hours than I have from them in three weeks.It makes a difference and you are doing a great job!
Thank you for your great service. Warm regards,
David L. P
---
May 2014
---
I wanted to send a shout out to the whole team at The Gorge Fly Shop. A year ago I ordered a couple custom Nautilus Reels and recently rush ordered a few items for a trip to Baja. Every communication with your shop has been first rate, enjoyable, and promises were followed through on diligently. You all are doing it right, keep it up! Here is a trophy rooster I caught, feel free to use the pic.
Thanks,
Daniel
---
April 2014
---
Hey guys,
I'm the guy that came in with his wife and baby a couple of weeks ago. I bought a Hardy 4" Perfect from you. Anyways, just wanted to say the reel is awesome and since I've had it, I've caught multiple fish every trip. You must have sprinkled some magic on it. Sorry for the crappy photo but it's the only one I have. Thanks again. Ryan P.
---
March 2014
---
Hi Lyndsey,

As you probably know we're back from Christmas Island, what an adventure that was. Especially for Jeanette, it was eleven guys and one woman. With that said it was a great group and we enjoyed the entire trip.
The attached pictures are Jeanette with a couple of really nice bone fish, one with me trying to hold the fish far enough away to make it look bigger and the rod holder in the boat going out to the flats. The rod second from the right is the Sage Method and Lamson reel, Jeanette used that combo the entire trip and loved it.

We're going to be coming down in the next week or so and we'll get a chance to meet in person. The rod carrier that I got just before the trip couldn't have worked out better. It is a place to test gear to the max.

Tell Travis I'll call him later this morning,

Best regards,

Art
---
This place ROCKS !! I got a great deal on a Outcast float tube and backpack straps. They give great customer service and shipping is very fast. They also offer free shipping on over $50 purchase what else could you ask for . Highly recommend this Place to everyone!! Thanks Gorges Fly Shop
---
August 2013
---
Maddie: Thank you for your update and the effort you are going thru on my behalf. I just returned from breakfast with our geezer fly fishing group of seven, and I had commented on the service and satisfaction I have been experiencing with your shop. They were impressed and appreciated my recommendation. I hope that they contact your shop to meet their needs as we start rolling into the fall season. Again, thank you for your help. Cliff
---
July 2013
---
Abel Nippers and Great Customer Service
Combine two great products; Abel Nippers and Gorge Fly Shop customer service and you get a customer for life. I bought a pair of pink Abel Nippers for my wife's birthday that had to be special ordered because most of us don't tend to buy them in that color. So I got the nicest emails explaining everything to me and the Nippers in the mail only a couple of days longer than if they had been in stock.
Jerry
---
Maddie, The reel and extra spool arrived today! I'm very pleased with the quality especially considering the price. Thanks for helping me obtain the extra spool. The level of customer service you offered isn't something I experiance very often and it was a pleasure working with you.

Thanks, Dave
---
April 2013
---
Hi, my name is allan, I live in SCOTLAND, I came across "Gorge Fly Shop" by accident, I don"t do fly fishing, i do Course fishing, ie, float, & feeder fishing, I was searching for a centrepin reel, when i came across the company on ebay, So i made contact, asked a few questions, and met Lyndsey, I have bought tackle from all over the U,K, but this company,s customer service is second to none, Lyndsey was top class, helping me out with my purchase, shipping costs, etc, shopping was a delight. Travis, Lyndsey, and the team, have been going for 21yrs now, I,m not surprised, if they continue to give the same level of customer service, then they will continue for many years to come. Lyndsey has become a far away friend, always willing to answer any questions. I have now placed 3 orders, "I wish the shop was in Scotland," I am very happy to highly recommend Travis, Lyndsey, and the team at the Gorge Fly Shop,

P,S, the Raven Matrix centrepin reel, is top class, many thanks,
---
March 2013
---
To,
Travis and all Staff Members.
I have just received my order in the mail, all intact. I now have to
find some time away from guiding to go fishing, and put the Rio Scandi
versitip into action. This will be in a few weeks when I head into New
South Wales and North East Victoria's high country to fish two of our
larger tail race rivers.
All going well I can send a positive report on my new lines performance.

I would now like to thank Mike Duffy for his advice regarding line
weight that should best suit my Sage switch rod, and all staff for
dispatching my order quickly.
Thanking You. David. Allure Trout Flies & Frames.
---
Hi Lyndsey,
Thank you for your prompt reply.
I must have deleted the message I composed when I placed my order, no problems!
Thanks once again for a wonderful service, you really put other online shops to shame.
Best regards,
John
---
February 2013
---
Apart from the awesome service from GFS, the Simms Vertical Mesh Vest was great! Very good pocket layout, great mesh (for hot summer days!), superb cushioned collar that really helps when the vest is loaded up with all the 'essentials' and great colour to blend in with the bush! Top bit of kit, I would highly recommend it!
Luke from Australia
---
January 2013
---
Congratulations to Travis, Lyndsey and their team at the Gorge Fly Shop,you guys are terrific, service and customer satisfaction are first class, keep up the good work, as an international customer from Tasmania you guys make it all so easy thanks again
Fred B.
---
December 2012
---
Just got the order I placed yesterday. Thanks for the great service. Love my new gear!
John A. (facebook friend)
---
Thought I would say "Thanks Again" for your great customer service. I've attached a photo from my September trip to the Deschutes to try a few new fly patterns you offered...

Scott W. (facebook friend - check out the photo on facebook)
---
July 2012
---
A very nice vest. The service is very well and nice. I like to order more when I need something more Thank You all! Kind regards Robbert
---
Amazing Service
I ordered this rod on Sunday and it was on my door step on Wednesday with standard shipping. This rod is the best I have ever cast, can't wait tell I am as good as the rod.
Thomas Hart
---
June 2012
---
Hi Travis

Just a quick one I just made another order with you

Im greatfull for all the great service you and your staff give me every time I get gear from you

Im not sure how many items I have got of you ( lost count ) But keep up the great work

Thanks once again

Anthony M. ( Australia )
---
May 2012
---
"Excellent service: I live in Tasmania, Australia and this is the second product I have bought from Gorge Fly Shop Online Store. The service has been excellent in both cases and the products have been as described and arrive in good order. I have yet to use this Rio line but expect it will live up to the product's reputation. David Houghton"
---
April 2012
---
"I purchased a G.Loomis fly rod & 2 Lamson fly reels from the Gorge Fly Shop via the internet. I would like to thank you for the sound advise and the efficient way my order was handled. The free flylines I received with the order were placed on the reels and spare spools for me, what superb service. I am really happy with the rod & reels and to top it off it arrived 5 days from dispatch to the Middle East excellent service guy's well done.

Best regards
John C"
---
March 2012
---
"Great top, excellent customer service: Excellent quality product, fits true to size. Customer service provided was stellar! Quick personal service. Will definitely use again." - Carrie C.
---
"Hi Lyndsey, My order arrived this afternoon! Thank for you the great experience, you made it so easy and I know my husband will love his birthday present! I was going to order them off Amazon but I remembered Gorge Fly Shop as my husband occasionally stops in as we pass through town. I love supporting local businesses and we love Hood River! We will actually be staying overnight in a few months and I'm sure we will be stopping by the store during our visit.

Thank you again,
Melissa"
---
February 2012
---
"The Hardy Ulralite 4000 CC reel that I ordered from you and that you had dropped shipped from Hardy USA arrived today and I am very satisfied. The H2O is alittle too "thick" to fish around here yet but I tried it out in the front yard between snow flakes on one of my old Scott "G" series rods and it worked very well. I landed our "lab" in short order. Seriously, thanks much for your time and effort. Russ B"
---
"Recently I have purchased 2 fly reels from your shop via the internet. I would like to congratulate your shop staff on the speedy and efficient way that these orders were handled- from the first email back to me stating that the order was received to the final one tellin me of the order dispatch. I was kept in the loop all the time- Great!. I also note the modest amount 0f the packaging charge (in stark contrast to many of your competitors) -I sense that there is a substantial goodwill subsidy supporting this charge. Very happy with my dealings with you and you can be sure that I will tell my flyfishing mates about your shop. Best Regards David L."
---
"Your service at organising and delivering the reel was sensational. Arrived in perfect condition with a 1 week turn around to Australia. Cheers - Darren C."
---
G. Loomis NRX-G Saltwater 9' 8 Weight Fly Rod
"Beautiful rod: Love this rod. I purchased the rod for a bonefishing trip to Belize and for wiper fishing. I've have lawn cast only but I can tell that it is an absolute cannon. Great service once again from The Gorge flyshop." - Michael M.
---
"Congratulations Travis, Lyndsey, Maddie and Austin. You deserve every bit of success that has come your way. I love how you guys treat customers more like friends and family than like a "sale". Wishing you another 20 years of growing success. It's a testament to you and your employees that despite a difficult economy, you have flourished and made so many friends. I feel blessed to be counted amongst them. Looking forward to more good times ahead." - Charles C.
---
Write a Testimonial below: