Keep up on what's going on in all things fly fishing around our local area of Hood River including famous fisheries such as Deschutes, Hood River, John Day, Columbia, Metolius and seasonal coastal steelhead reports as well as seasonal mountain lake reports. Our Northwest Columbia Gorge Location provides ample opportunities for salmon, steelhead, trout, sturgeon, carp and smallmouth bass.
---
Fishing Report 8/1/2022
Lower Deschutes River
The lower Deschutes is a good option right now to beat the heat this week. With hot temps happening throughout the NW, I would focus your efforts early in the morning from sunrise till about 11am. Then back in the evening when the sun is setting. It's also a good idea during these heat waves to fish higher up in the system closer to Warm Springs where the water will be the coolest. This time of year is a good time to carry a Fishpond thermometer to make sure you are fishing responsibly. Fish water that is 68 degrees or less for trout. Anything above this can be fatal to trout upon release.
Fish dead caddis in back eddies and along grassy banks in the mornings. Nymphing continues to produce well at any time of the day. When it gets hot like this, the trout generally will move into deep and fast water so using heavily weighted nymphs will allow them to break through that current down where the trout are laying.
Middle Deschutes River
Haven't fished the middle Deschutes in a little while. I would assume fishing is decent. Should be some caddis hatching in the afternoons/evenings. Nymphing will be most productive in the fast riffles where the water is the most oxygenated.
Upper Deschutes
The upper Deschutes has been okay. Water is staying fairly cool the higher up in the system you go. PMD's are hanging on still with fish still looking up. Streamers and nymphs will be the most productive method at this time though.
Metolius River
The Met is a good bet with all this heat. With it being a spring fed stream, the water temps remain consistent throughout the year staying nice and cold which make the fish happy. There are quite a few lake run bull trout showing up at this time getting ready to spawn in the next few months. Dead drifting big articulated streamers that imitate whitefish/kokanee is a highly productive method. You can do this with or without an indicator. If you're able to see a few fish laying in a run, i like to just dead drift them without an indicator and watch for the fish to eat.
Trout fishing is good. Euro nymphs and traditional nymph rigs are getting it done. Caddis and pmd's are the main bugs that are hatching with the occasional golden stone flying around.
Mt Hood Lakes
Lake season around Mt. Hood is in full swing. Float tubes are the best tool for the job up there and can be a ton of fun. Slow stripping wooly buggers, damsel nymphs and leeches is a great method. Nymphing with a set of chironomids or a pheasant tail nymph is a good bet too. If fishing this method, giving the indicator a few pops and strips here and there help bring those bugs to life and will trigger more takes.
Steelhead
The Lower Deschutes river will be opening for steelhead fishing on August 15th which is exciting news. We surpassed the 9900 unclipped steelhead number over Bonneville to yield a season opener. The next number we need to hit is 23,100 unclipped fish over Bonneville through the month of August to ensure the season remains open for the rest of the season. Please give the shop a call if you have any clarifying questions, but as of right now, the Deschutes is set to open August 15th.
Last Week: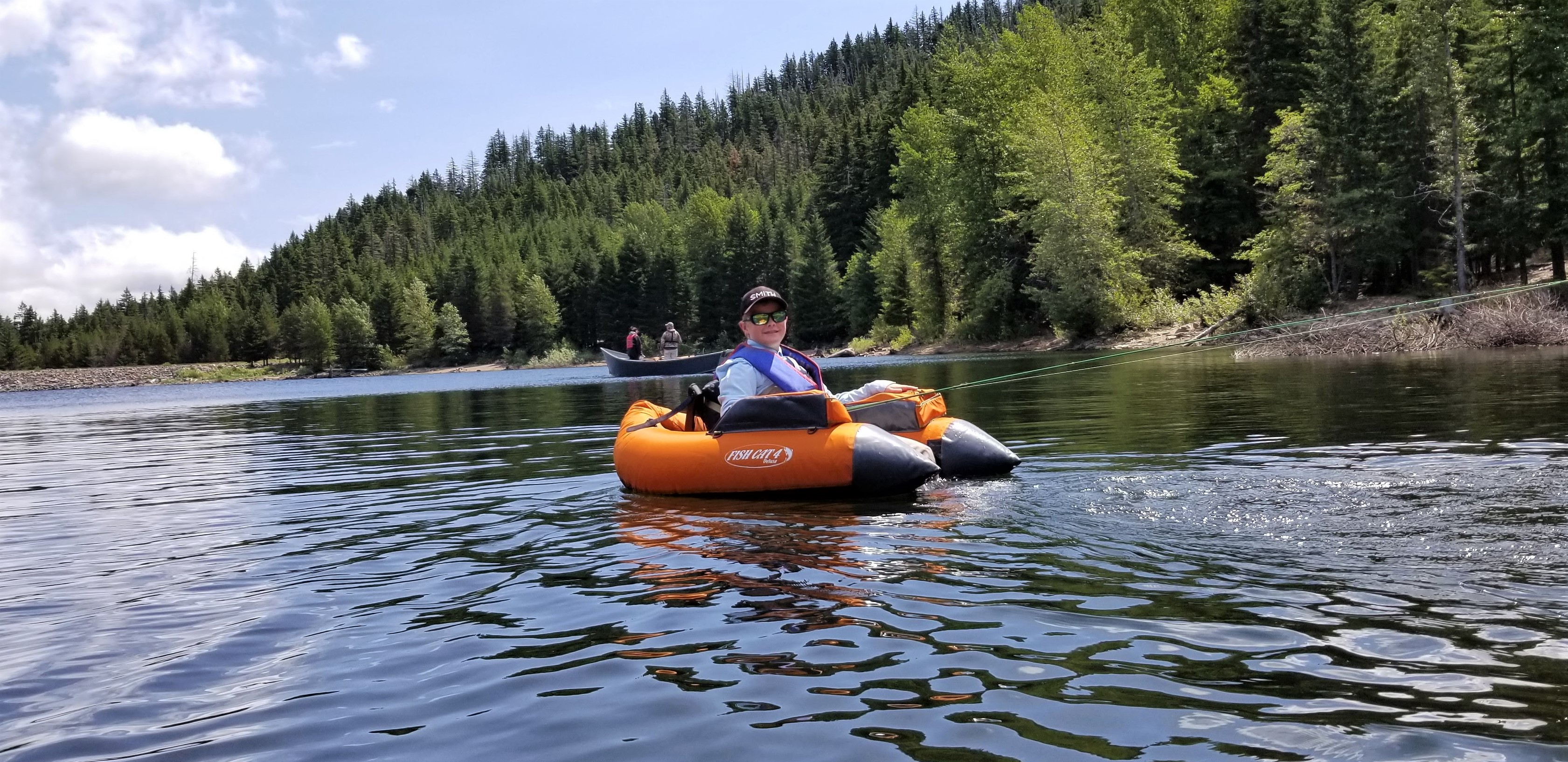 Laurence Lake Update:
Laurance Lake Rd. (Forest Road 2840) on Hood River Ranger District opens Friday, July 8, following emergency repairs. Laurance Lake Rd. provides access to Kinnikinnick Campground, Laurance Lake Day Use Area, and several trails on the Hood River Ranger District. While the Eliot Creek washout has been repaired,
Laurance Lake Rd. is still extremely rough and narrow. Forest engineers recommend travel by high clearance vehicles only, and highly discourage trailers. Laurance Lake Rd. has been closed for public safety due to a road washout at Eliot Creek. Crews recently completed work, which included installation of two culverts at the creek crossing. Campsites at Kinnikinnick Campground are now open and available for reservation at Recreation.gov. The crossing over Eliot Creek is a flood-prone area, primarily due to melted water and erosion from Eliot Glacier on Mount Hood's north side. In spring the fast-moving water carries rock, silt, and other debris down the mountain and into streams. Erosion from the snowmelt creates unstable ground and stream washouts, specifically at this section of Eliot Creek.


Trout - Deschutes River:
Lower Deschutes River
The lower continues to produce good fishing with caddis being the main bug on the trout's menu. The epic swarming evening caddis hatches are well underway throughout the entirety of the Lower Deschutes. These caddis are typically a size 16 or 18 so having a wide range of different patterns in that size range is a must if you are planning a trip. My favorite pattern would be a tan x-caddis. Fish will be tight up next to grassy banks, under trees and in back eddies when they are looking for these bugs.
Nymphing both traditional and euro style in the mornings is producing good action too. Rubber legs down to a caddis pupa or mayfly nymph is a good bet. There are stoneflies in the Deschutes year round and even though that hatch is well over, the trout still eat them.
Swinging small leeches or sculpins on a 3-4 weight trout spey is producing some fish too. This is typically not a numbers game (though it definitely can be) but you will usually hook into some larger fish with this method and its loads of fun.
Don't forget to purchase a boaters pass if you are floating any part of the Lower Deschutes. They can be purchased at
recreation.gov
and are required to have when floating.
Middle Deschutes River
The middle D from Bend down to Bill Chinook has been productive for those venturing down into the beautiful canyon. Quite a few caddis and pmds hatching down there with fish looking up in the later parts of the day. Nymphing two flies is by far the most productive method right now. The middle D is great hopper dropper water too and is more fun than staring at a bobber all day. Foam body hoppers, chubby chernobyls, stimulators, renegades, and yellow humpies are all great attractor dries that can hold up a bead head nymph well.
Upper Deschutes
The very upper river from Little Lava Lake down to Crane Prairie Res is fishing quite good. This is a fun 7 mile stretch of water full of log jams and undercut banks where good size brook and rainbow trout live. Dry dropper rigs with a hopper or small chubby and a euro style pheasant tail or red lightning bug is getting consistent action. Stripping small buggers and sculpins around the log jams is your best bet at finding brook trout.
Pmds are still hanging around from Benham Falls upriver to Wikiup Dam. This is a fun section to hunt heads. Fish are still looking for a well presented pmd dry whether its a rusty spinner or a comparadun. They typically hatch pretty large up here, size #16s and even some #14s mainly from what I've experienced recently. Stripping big black streamers around the log jams early in the morning is a good way to find some of the larger browns that live up there.
Metolius River
There have been some really good hatches and dry fly opportunities on the Metolius as of late. There was a strong pmd hatch a few days ago in the late afternoon and the trout were keyed on them good. Caddis and little yellow sally stoneflies are hatching on any given day as well so have a few patterns of each in your box. I also have been seeing a few golden stones crawling around the banks of the Met so it wouldn't be a bad idea to have a few of these patterns on hand as well. These are a good searching pattern to use in non hatch times with a dropper nymph below. Euro nymphing still remains the most productive way to get into some fish right now. Euro frenchies and pheasant tails are some of my favorite sub surface patterns to use on the Metolius but don't overlook a standard zebra midge as this is a staple pattern for this stretch of water.
Bull trout fishing has been fair to good above bridge 99 for resident bull trout. A common misconception is that the fall and winter are the only times there are bull trout in the Met. There is actually a pretty healthy number of local fish that live here year round but the late summer/early fall is when even more bullies migrate up the Metolius from Lake Billy Chinook to spawn and follow the Kokanee upriver. There are already a few lake run fish that are nosing their way into the lower river and those numbers will continue to increase over the course of the next few months]]. Bull trout's main diet once they're in the river are whitefish so using large white/grey articulated streamers is the best way to "match the hatch".
Lake Update
Lake season around Mt. Hood is in full swing. Float tubes are the best tool for the job up there and can be a ton of fun. Slow stripping wooly buggers, damsel nymphs and leeches is a great method. Nymphing with a set of chironomids or a pheasant tail nymph is a good bet too. If fishing this method, giving the indicator a few pops and strips here and there help bring those bugs to life and will trigger more takes.
Steelhead -
As of Sunday July 24, over 9,900 unclipped steelhead had been counted at Bonneville Dam. This means the lower Deschutes will reopen on August 15 and be open until at least September 15. Another 12,122 need to cross before August 31 for the river to be open until May 31. Runs so far this year have been strong. We're hopeful it will surpass the numbers to remain open.
Smallmouth Bass / Carp:
Smallmouth are residing deeper these hot sunny days but good topwater action can be found in early morning and late evening. fish the shady drop offs and for this summer topwater bite bigger is better.
Carp are actively cruising the shallow flats. Carp fishing will humble you up really quick. Great practice if you have a saltwater trip coming up. These fish require accuracy and stealth to have success. Focus with site fishing them in mid day on shallow flats.