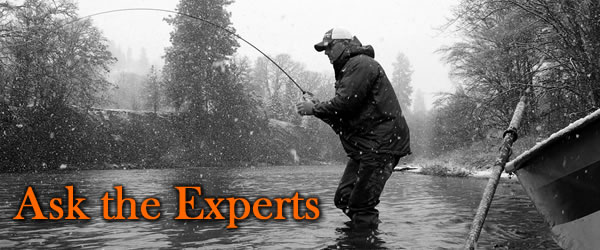 Here at Gorge Fly Shop we all love the outdoors!
Fact is we are all expert anglers and many of us have worked as professional guides. Our crew has countless days fishing locally as well as around the globe. We are a culmination of experiences and knowledge with a willingness to share. The expert advice page is here to help you find that individual that has specific knowledge to help you answer questions about fishing a particular style, species or location. Email the expert you think can best give advice for your fishing needs. We'll be happy to talk fishing.
Need some friendly, professional advice? We would love to help. Simply email your questions to the GFS Team Member who best represents your needs for some prompt, accurate answers!

In no specific order...
---
Travis Duddles | Shop Owner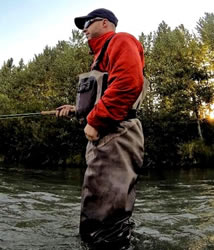 Bio Coming Soon
---
Greg Darling | Warm Water Expert
Gorge Fly Shop Internet Manager and Product specialist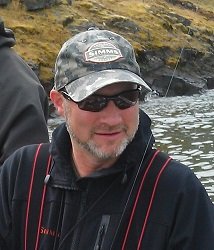 Warm water Species is where I consider myself an expert. I have been pursuing Bass, Crappie, Bluegill and Walleye all my life. Between my hometown of Cincinnati, Ohio, north to Lake Erie and beyond into Canada is where I have gathered most of my experience. Since moving to the Northwest and starting my career with GFS in 2007 I have built my reputation for being a bass pro on the mighty Columbia River. I canít explain the hold on me the passion for these warm water species but it exists and thrives no matter where I go. So if you have ever wanted to take a Bullgill on a 3wt or tease a smallmouth to the surface with a giant popper than we share the same passion and I would be thrilled to share my knowledge with you for your pursuits. Today Steelhead gets much of my attention and swinging flies with a Two Hand rod has further advanced my skills. I now find myself using these tools in the pursuit of Trout, Bass and any other species I think I can swing a fly to. The passion of fishing involves discovery. Its a lifelong pursuit!
Gorge Fly Shop Team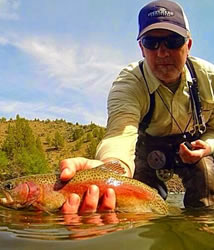 Although I started working for Travis about 5 years ago after retiring from a 23 year salmon & steelhead guiding career, I have known Travis since he opened the Gorge Fly Shop back in the day. Through my guiding and angling experiences I have gained a wealth of knowledge in our local Oregon, Washington and some Alaska waters. Although fly fishing has always been a passion of mine Iím also knowledgeable in Gear and Center pin fishing. A local grown fisherman, I have been fishing these waters since high school in the late 70ís, if you couldnít find me in the basketball gym youíd find me on a river somewhere. The last five years at the shop have been wonderful for me, allowing me to stay active in the industry and help others pursue their passion of fly fishing. Give us a call itís easy to talk about something youíre passionate about! Oh yeah, I like sweet tea, getting caught in the rain and long walks on the beachÖ
---
Andrew Perrault | Team Member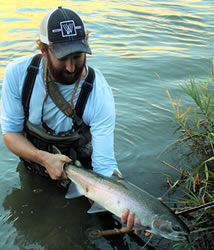 I am Andrew Perrault. I came to Hood River after years of guiding and fishing throughout the west. I grew up in the greater Seattle area, but did not start fly fishing until college, where a summer on the Methow River in Winthrop, WA got me hooked on fly fishing. The numerous lakes and spring creeks around Cheney, WA provided me with great introduction to trout fishing for my final years in college at EWU. Then one fateful fall trip to the Grande Ronde and steelhead changed my life forever. I soon decided to become a guide, and spent three years chasing salmon and steelhead in Alaska, while spending winters downing trees and swinging for steelhead in Seattle.
Then I made a mistake and moved to Nevada, following a girl... While living in Nevada, I guided trout in Southern Utah and managed a fly shop in Las Vegas. It was a great experience, but I sought better fishing opportunities. So I moved to the Tetons. Several years of chasing trout on the Teton, South Fork Snake and Henry's Fork in Idaho made for much better fishing, but it left me reminiscent for my earlier days chasing steelhead on the swing. I spent seven years in Idaho teaching in the winter and guiding in the summer, and moved out to the Gorge in 2012 to chase steelhead on a permanent basis. One year of teaching science at a local high school left me jaded towards the public school system, so I started at the Gorge Fly Shop in September of 2013.
I have been spey fishing since 2002, and it is my preferred way to fish. I love trout fishing, but the tug of a steelhead on a tight line spey rod can't be beat. When I trout fish, it is usually in high mountain lakes or in the Columbia Basin lakes of central/eastern Washington. I love the solitude, beauty and slow pace of a day on the lake.
"If steelheading were easy, they would call it trout fishing."
---
Ryan Van Duzor
Born in Gunnison, CO, Ryan was quickly indoctrinated into outdoor life and learned to catch the trout of the rivers, creeks and lakes of the western Rockies. His family moved to the Chicago burbs where as a youth Ryan continued to fish as much as possible and targeted the bass, panfish and carp of the local waterways while learning how to catch the big smallmouth of the great lakes. During college Ryan came back to his routes by stalking the trout of the myriad of spring creeks in the Driftless region and eventually landed a job managing a fly shop in the burbs. After years of chasing every fish of the midwest Ryan felt the call to pursue more education and received a master's in aquatic entomology from Loyola where he studied the aquatic insects of coastal Alaska ponds (and caught as many sockeye, pink and coho salmon on the fly as he could handle!). Having family in FL has given Ryan to the opportunity to pursue the inshore saltwater species with snook and tarpon being his favorites. Before moving to the PNW Ryan had become and avid bass fisherman from the Great Lakes to the southern reservoirs along with becoming addicted to chasing the giant musky of the northwoods. Ryan has now become entranced with chasing steel in the PNW and bass in the nearby Columbia. Ryan and his wife and daughter are recent migrants from Chicago and now call the Gorge their home.
Ryan works as a sales specialist in the Gorge Fly Shop where he helps others to find their enjoyment of nature through fly fishing. He is a self proclaimed "gear geek" and is happy to talk shop with anyone who calls or stops in the shop!
---
Mike Prine | Webmaster - Tech Support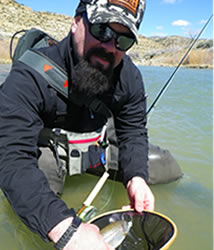 Bio Coming Soon
---
Patti | Deskmaster 2.0

photo and bio coming soon
---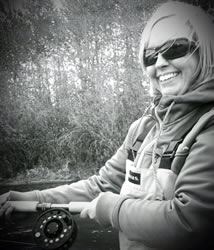 I married Travis just over 13 years ago. I used to live in Vancouver Washington. I worked at a doctorís office there and a wonderful friend and co-worker set me up on a blind date with Travis. This is Dan Gordonís daughter, Carrie. I know, small world. We have been together ever since and we have two beautiful children. Our daughter Maddisyn is almost 11 years old and our son Austin is 8 years old.
As of almost 7 years ago I left my job at a local OB/GYN office to work here at Gorge Fly Shop. I know, some of you may think itís hard to work with your husband but we work really well together and I would not have it any other way.
I first started doing a little bit here and there but eventually was on the desk position processing orders, payments, answering questions and such. I loved doing that job however, it was really hard for both Travis and I to be gone at the same time. Patty started working with us just over a year ago and is doing a fantastic job which enables Travis and I to get away together more. We are so happy and proud to have such fantastic employees.
Prior to meeting Travis I had never fly fished before. He shared his passion of this sport with me but after our daughter was born and then our son as you can understand my fishing time was cut short. Now, they are older I get to fish more. Besides I am spoiled and get to fish with John Garrett, Tom Larimer, Sam Sickles!
This year, September 2015 was my first overnight trip on the Deschutes. It was amazingÖ.I was fishing with a spey rod and landed my first two Steelhead all on my own. Well with lots of guidance from Sam Sickles. I had such a fantastic trip that I canít wait to go back.
I would have never imagined as a young adult that I would be where I am at today but I would not change a thing. Iím blessed with a loving husband, kids and my passion to keep Gorge Fly Shop growing!
Thank you for shopping with us and becoming part of our family!
Lyndsey Duddles
---
Jerry Swanson | Travel Expert
Business: Fish Head Expeditions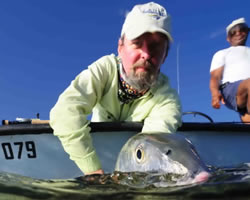 I have been fly fishing all over the world for more than 30 years, and during that time Iíve had the privilege of matching thousands of anglers to great fly fishing adventure travel. Itís been a great run, and Iím still exploring new waters, in business and in angling.
In the last year, I started
Fish Head Expeditions
and also spent a lot of time fishing in fresh and saltwaterósome in new destinations, some revisiting fishy locations, and all with the latest gear and flies.
My advice on destinations and tackle is based on hands-on experience. My expertise and commitment to your success will help you enjoy the trip of your dreamsóone that reflects your interests, style, and budget. Whether youíre after bonefish in the Bahamas, steelhead in B. C., brown trout in Argentina, or a float trip on the Deschutes,
Fish Head Expeditions
is your go-to resource for premier fly fishing around the planet and around the corner.
Contact me at jerry@fishheadexpeditions.com
or 503.539.1451
---
Can't find the right Expert? Not quite sure who to ask?
Ask the GFS Team at we'll find the RIGHT answer for you!
info@gorgeflyshop.com
541.386.6977
---