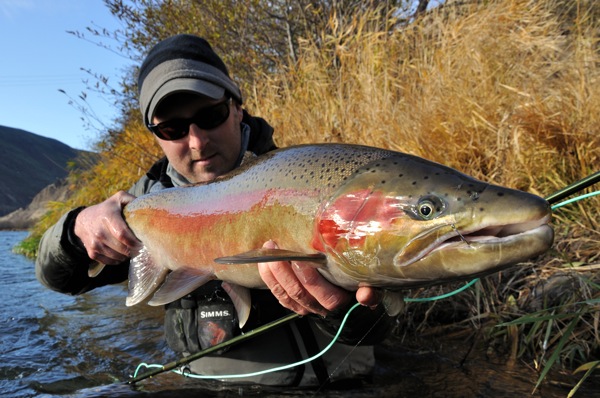 Larimer Outfitters Guide Service,

Spey Casting

Instruction & Hosted Travel
If you're looking for the fly fishing trip of a lifetime, Tom Larimer offers guided trips on the incredible rivers of the Columbia Gorge and beyond. Whether it's chasing summer steelhead, dry fly fishing for Deschutes "Redside" rainbows, or Spey casting for elusive winter steelhead, Tom is the foremost authority on all of our local water. He is also on the leading edge of Spey casting instruction and product development. Furthermore, Tom works closely with the Gorge Fly Shop to ensure you can make informed product decisions for your fishing needs.

Book your guide trip today at (541) 490-9446 or visit www.larimeroutfitters.com
---
Deschutes River
Steelhead Camps
The world famous Deschutes River, just forty minutes from the fly shop, offers some of the finest summer & fall steelhead fishing in the Northwest. Tom's Deschutes River Steelhead Camps are first class all the way.
You'll be exploring the seductive water of the lower river in Tom's jet boat. His camps are known for the best
accommodations on the river, great food, a gracious staff and world class fishing. Experience everything the Deschutes has to offer on one of his incredible steelhead camps.
Deschutes River Trout
- Day & Camp Trips
From April through July, Larimer Outfitters offers jet boat and float trips on the "Blue Ribbon" trout waters of the beautiful Deschutes River. Wether it's chasing the salmon fly hatch or swinging soft hackles with spey rods, Tom is one of the most prolific fly fishing guides on the Deschutes. If you are looking to learn from a true trout guru, Tom is your man.
Clackamas River Winter Steelhead
- Day Trips
From December through June, Tom guides the Clackamas River for winter and early summer run steelhead. The "Clack" offers miles of beautiful steelhead water that screams for spey rods and traditional presentations. Tom was the first fly fishing guide to offer jet boat trips on the clack, and he's still the best. Plus, you'll walk away with a PHD on Spey casting.
Spey Casting Instruction
In addition to guiding,Tom Larimer is at the forefront of two-handed casting instruction and Spey product design. As a Spey line designer for Airflo Fly Lines, Tom has build a family of lines including the Skagit Compact, the Rage Compact, the Skagit Intermediate, and the Skagit switch. -His teaching style revolves around the family of lines he has built to help anglers catch more fish. Whether you're a beginner looking to get into the sport, or an experienced caster wanting to advance your skills, Tom Larimer can take your casting to the next level. Private and group lessons are typically done on the Hood River, just minutes from the shop. Larimer Outfitters also hosts numerous fishing schools throughout the season.
Hosted Fly Fishing Travel
If you're looking to take a fly fishing trip to a world class destination, consider joining Tom Larimer on one of his hosted trips. Tom is there to help you plan and pack, to ensure your trips goes smoothly, and to give you any help in the fishing or casting department.
Fish with the best! - Booking your guide trip or casting lesson today!
Please book your guide trip directly through Larimer Outfitters at (541) 490.9446.
You can also find more information and details at
www.larimeroutfitters.com
---
Note: Guided fishing trips are not without inherent risk. Gorge Fly Shop will make every effort to assure a safe and enjoyable trip. Gorge Fly Shop will NOT assume responsibility for damage or injury to a client's person or belongings.
Larimers recommended gear: Call the shop for his current gear list...