Fly Fishing Pontoon Boats: A Buyer's Guide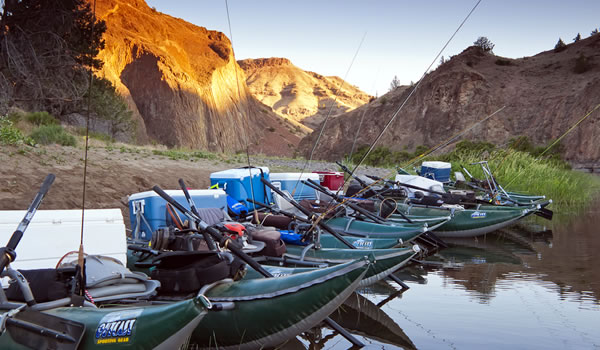 Floating atop the surface of a lake or a river is a beautiful thing...
Not only is it an enjoyable way to travel, but you may also experience places that would otherwise be impossible to reach. For anglers around the globe, the benefits of pontoon boats have become quite clear. They help to bring you where the fish are – or through those special landscapes that your own two feet, cannot.
For those of you interested in purchasing a pontoon boat, the three most important things to consider are: Durability, Function and Your Budget.
As is the case with most products, price does depend on the quality of materials. For pontoon boats the greatest concern is the type of bladders used. Most pontoons have an outer shell that is made of a pliable, PVC material. This stuff is fairly durable and ranges from a 500 – 1800 rating (which is determined by the weight of the material). Inside these shells are the actual bladders that hold the air. There are three different types of bladders found on the market today.
The first is vinyl. Vinyl is the least expensive material and it is also more liable to leak over time. Basically, vinyl does not have a high degree of elasticity so that as the material expands, it has a tendency to keep stretching without contracting back to its original form. As time goes on, this material loses its integrity putting it at a greater danger for pin holes and leaks due to trauma.
The best, but most expensive, bladders are Urethane. If you are willing to drop the dough, boats that utilize Urethane are the most dependable and the most likely to hold up over long periods of time. This is why companies like Outcast can afford to put a 10 year warranty on their Urethane – bladder boats. This material is highly elastic and if a leak does occur, it is the easiest material to patch while on the water. Simply put, Urethane bladders are far more durable than Vinyl.
The third type of bladder is a Vinyl/Urethane blend. This is the middle price point, although there are not many pontoons out there that have this combination. The brunt of the bladder is Vinyl with a Urethane coating. As is the case with vinyl, it works but this blended material offers far less durability than a purely Urethane bladder.
It is nice to have a stout PVC shell for these bladders, but truth be told, even the low rated shells are fairly durable. Typically, boats that have Urethane bladders will also have more durable covers. Also of concern is how these outer shells are put together. Welded seams are stronger than sewn seams, however, there are cases where low-cost boats do utilize welded seams. If it is a low priced boat, our recommendation is to go with sewn seams because there do exist poorly crafted, welded seams out there on low-priced models.
Frames for pontoon boats are built from both steel and aluminum. Steel is stronger, but definitely adds more weight. Many high quality boats utilize rust-proof aluminum frames as a fine balance for durability and functionality.
The added components like seats, oars etc… are fairly constant across many stock models of boats. A word of caution however: when looking at the overall quality of the boat, do not be swayed by the type of components that are added on as opposed to the quality of the pontoons. Components are a pretty cost-effective way for companies to dress up their vessels and shouldn't be the overwhelming determinant of value.
This is where you must first ask yourself a few questions:
-In what type of water will you be using the boat?
-How many people do you wish it to hold?
-How portable do you need the boat to be?
-Storage capacity
---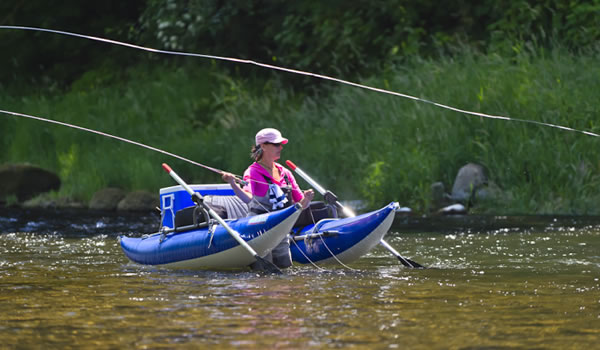 Lakes:
For most lake anglers, a basic 8-9 foot boat should do the job. Although quality tubes definitely add to the life of the boat, one may get away with vinyl pontoons here. Tube diameters of 16" are pretty typical on the lakes. Higher tube diameters bolster a boat's weight capacity as well as improve the boat's agility. However, operating tall-tubed boats on a lake can be difficult when the wind is blowing. Light boats in the 8 – 9 foot range can be controlled with fins, as opposed to oars. We call this "kicking" and this can be very effective when you want to maneuver and fish at the same time. Trolling along a shoreline is a fine example "kicking". But, once you get above the 10 foot length, kicking is not really a viable option. There are a series of boats out there that use four total pontoons. The Outcast Pac 9000 has two pontoons per side which allows it to keep pontoon height to a minimal, right around 10 inches. These low-profile boats perform very well in the wind and when running over shallow gravel bars. They are not as agile, however, so they take a little more strength to maneuver.
Gentle streams:
8-9 foot boats are also useful tools for floating small or gentle streams. Many boats in this size class have "rocker" shaped pontoons, which means that the tubes curve up in a rounded-fashion in both the front and back of the boat. This essentially leaves less surface area on the water making them more agile. Floaters using these rocker boats can spin the boat very quickly. The downside here is that this style is less stable and far less able to track on a straight line when running rivers or rowing across a lake. You will be "rocking" back and forth with each oar stroke. Keep in mind that companies save money with these rocker styles because there is essentially less material involved. One might still "kick" a boat this size on only slow moving rivers. But we do not recommend this, as it can be very dangerous in moving water.
Whitewater:
People needing whitewater capabilities should think about pontoons no shorter than 10 feet in length. Generally speaking-for running rapids, the longer the pontoon, the better they track through rapids. More length allows the boat to span across holes and wave trains. Also, thicker tube diameters are needed here to keep you and your gear afloat and more maneuverable. We would recommend 18 inch – diameter tubes and above for floating rivers with any amount of serious whitewater. Also, the total width of the boat says a lot about a boat's over all stability. It should be mentioned here that personal skill level is the most important aspect for running whitewater. Beginner oarsmen really have no business attempting dangerous water in any size boat. When I mention 10 feet and 18 inch tubes this is really meant for advanced river runners. The less your own personal skill level, then the longer your boat should be. Even for single occupants, a 12 foot pontoon is a more viable rig to use when running serious white water. Pontoon boats are made in lengths up to 20 feet long. Rowing these multi-person vessels are tougher to move around, but they are far safer when plowing through serious rapids. Experience allows people to drop down in over all boat size.
People wishing to bring another occupant, should have their eyes on at least a 12 foot boat with 18 inch and above diameter pontoons. Boats of this size will give you adequate space and weight capacity for you and your gear. Standing and fishing from a boat this size is also an option if there is a stout, upright frame and it is properly balanced. For three total people, pontoons or rafts of at least 14 feet in length should be the shortest boat considered.
Pontoon boats, for the most part, are very portable. But to fairly address this, one must look at the overall size and weight of the boat as well as the type of frame. If you are traveling to a body of water with the boat in pieces, most vessels should break down and fit into a compact car. To get a solid feel for size, look at the number of pieces involved in making up the frame. Frames that click together with holes and pins will go together quickly. Frames that are bolted together will take more time. It is much easier to leave these pontoon boats whole and most will fit nicely on top of one's car or in the bed of a pickup. Most boats up to 10 feet in length are very manageable for one person to throw up on the car roof. 11 and 12 footers are doable, if you're extremely rugged. 12 foot pontoons can be pulled up onto a trailer at an honest boat ramp by one person, however you certainly lose options when you get into these longer lengths. The beauty of small pontoons is you can drop them in and pull them out in some fairly obscure places. If you need to hike with your pontoon, you will need a small boat and a light, packable frame. Aluminum frames are key to keeping your load light. While not a pontoon, boats like the new Outcast Commander do not have a frame and are extremely packable.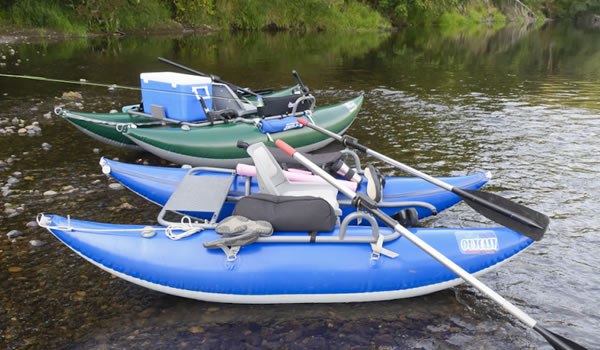 Storage Capacity and Anchor System
Okay, it is pretty easy to read the specs and see how much weight a boat can handle. But an often overlooked aspect is how user-friendly a particular storage system actually is. One thing to look for is what type of anchor system the boat has. Although this seems off-topic, this aspect is crucial to how the storage racks are laid out. Boats that have an anchor system that runs through the frame (Not Over The Top!) have far superior storage systems. When this is the case, storage racks are placed above the pontoons. Some boats that have anchor lines that run over the top of the frame, have their storage racks resting down closer to the water, between the pontoons. When this is true, there is less storage space and it is more difficult to reach your gear. Essentially, the anchor rope gets in the way of your packing scheme – also hindering smooth anchor operation.
---
You get what you pay for. Here at the Gorge Fly Shop, we have dealt with Outcast Boats for years and we are very happy with their quality, service and range of options. However, we do recommend two basic strategies when it comes to pontoon boat shopping. If you are a fair weather angler needing very little whitewater capabilities then spend the least amount of money possible. A solid choice here would be the Fish Cat Streamer XL – IR. If you need a higher quality boat that has a broader range of options, then go all the way to the top. Do not spend your money on a middle of the road option. Go low or go high. Remember, the real quality of a boat is in the bladders, the shell, what type of seams hold the shell together, and the type of frame and storage layout. When you make the jump from the Fish Cat series to the Pac Series there is a considerable jump in price, but it is well represented by its inherent quality. When you start looking between the two, for instance: at the Discovery Series, you are not getting better bladders for your added dollars. In this case, we don't feel that value is well represented. As far as a one-man, do-it-all, high quality boat goes, you should really be looking at the Pac1000 Series. But of course, you may want bigger, or you may want smaller depending on your style.
Below is a makeshift table of the pontoon boats that we like and some of the important characteristics of each: