Buff Headwear
What is Buff Headwear you might ask?
Gorge Fly Shop has been selling buffs for a few years now and we knew these would become a fisherman's friend. You need these fishing on the flats of the Bahama's or Christmas Island for sure but what you may not have realized is how useful they are in the cool climes as well. I always have one with me while fishing the cold winters of the Northwest.

Buff Video:
The Gorge Fly Shop's Introduction video to
Buff Headwear
from Greg Darling our Internet Manager and Product Specialist.
No more excuses for sunburns. No more hiding in the shade. UV Buff® headgear keeps the sun fun. Hour after hour, it wicks away sweat to keep you cool, fights odors with Polygiene® Active Odor Control, and protects you from 95% of harmful UV rays*. Now thatís cool.
†
Features
Blocks 95% of UV rays*
Soft, breathable Coolmax® Extreme fabric
100% seamless
12+ ways to wear
Polygiene® Active Odor Control
Moisture-wicking
Thermal protection from cold & wind
Quick-drying
2-way lateral stretch
One size fits all adults
Fabric Content -100% microfiber polyester, Polygiene® Active Odor Control - Permanent effect, lasts the lifetime of the garment. Environmentally friendly application.




†

Coolmax® Extreme -A special four-channel fiber forms a transport system that pulls moisture away from the skin to the outer layer of the fabric. It then dries that moisture faster than any other fabric to thermoregulate the body.

†

†




Keep the sun fun. UV Buff® headgear blocks 95% of harmful rays*, while wicking away sweat and fighting odors with Polygiene® Active Odor Control. Now that's cool.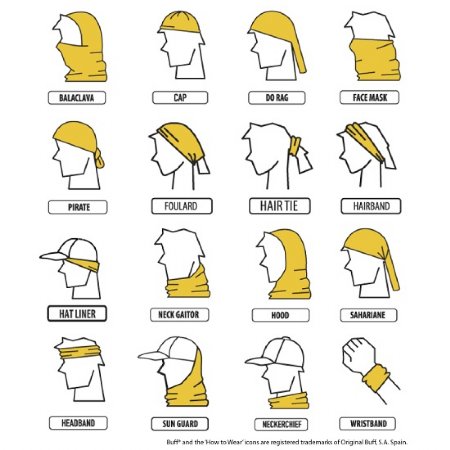 Care Instructions
Your Buff headwear is made of pretty strong stuff, in fact it might possibly out last you. However, if you notice a strange aroma after a few months of use, all you need do is either wash by hand using any form of detergent or machine wash at any temperature and it will notstretch, shrink or run as Buff headwear is completely colourfast. When it comes to drying all you need do is run down the street with your Buff trailing behind and after a good hour on the run it should be dry or just hang it on the line because it will dry in minutes.
†
Hand or machine wash in warm water with mild soap
Do not use fabric softeners
Do not bleach
Do not machine dry
Do not iron
Still not convinced...
Check out this 10 minute video from the Buff Team highlighting some amazing fishing locations, some great catches and above all, Buff Headwear.
"Fly Fish the World with Us"
---