George Cook | Simms Rep
Once again, we check in with George Cook - Astute Sage Fly Fishing sales representative for the Pacific Northwest and legendary, world-over angler/hunter - on Sageís latest light action fly rod, the Sage Circa.
---
GFS: Hey Georgie. How have you been? Where have your travels taken you in 2012?
GC: Well 2012 offered up a pretty nice mixed bag. Naknek River in Alaska, San Juan in New Mexico, The Missouri in Montana and a lot of great days throughout Oregon and Washington.
GFS: Highlights?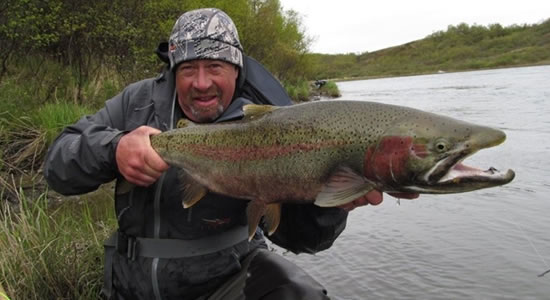 33.5" x 17 Naknek Rainbow/June 8th, 2012/ 4116-4 ONE with Skagit Short 325.

GC: That would have to be the 33 Ĺ X 17 inch rainbow I got this year on the Naknek while swinging a sculpin with the 4116-4 Sage One Switch. That rod is The Ultimate baby spey.
GFS: Sounds like the perpetual critter tour goes on. Is this safe to say? What is it with you and critters anyway? Is this a describable infatuation?
GC: Hard to say. Just the way I am my friend. I go with the seasons. Tomorrow I hop on a plane to Mexico for my first deer hunt of the year. Itís hunting when itís hunting, fishing when itís fishing. I like to plan ahead, work on the best timing and then dive straight in when I get there.
GFS: And I guess one needs their tools. It seems you have the perfect profession Georgie-
GC: Oh yeah. Working with Sage, definitely helps to bring you there and keep you outfitted. Opportunity abounds where opportunity is found. I like to think I find it all over, and my profession certainly helps.
GFS: Ok, letís talk gearÖ It has been a big couple years for Sage with the advent of their patented, Konnetic Technology and the release of the Sage One and Circa Series. Now that some time has passed, would you say that the hype surrounding these rods sits on solid ground?
GC: No doubt Duff. The One Rod is as hot as or hotter than when it first burst on the scene. Solid ground could be an understatement. I was talking with one fly shop owner the other day and he mentioned that he has sold six 590-4 Sage One single hand rods over the last 30 days here in the middle of winter. We were happy this year to release the One Spey Series to finally round out the entire One line that is certainly the flagship family of rods at Sage now.
GFS: Weíve definitely spent some time, you and I, talking about the One Series. I would like to move on to the Circa, but before we doÖ Itís become extremely evident from many of our customers that the One is carving out its place not only in freshwater, but also in the salt. Does this surprise you?
GC: Not at all. The One is right at home in the salt as it is in freshwater. Bonefish class rods, or 9 & 10 weights for Permit, 11 weights for Tarpon, the opportunities go on and on in the salt as well. These rods provide unprecedented accuracy that is just as - or even more - critical in the salt as anywhere in fly fishing today. Itís lightweight and extremely accurate which makes for the perfect travel companion.
GFS: Why might certain saltwater anglers prefer the One over say, Sageís top saltwater rod, the Xi3?
GC: Letís take bonefish for example, where conditions or settings can vary dramatically. For those anglers who prefer wade fishing and chasing bonefish at close range, itís hard to beat the quick, easy loading of The One. A quick pickup and out. Itís much easier to load. But letís say youíre in a boat going for moving targets which could be a little further awayÖ well for those anglers the Sage Xi3 is tough to beat, especially when you might be dealing with more than one false cast and the second cast often becomes THE cast.
GFS: I see. I suppose that even more so for anglers needing a rod to cross over both fresh and saltwater boundariesÖ Would you say the One might be the perfect option for anglers needing this kind of versatility?
GC: No doubt Duff. The One rods are the ticket for bridging the gap between fresh and saltwater. Take your 790-4 or 890-4 One. These rods are perfect for both bonefish and steelhead. Want to use your 990-4 or your 1090-4 for Permit, Roosters, King Salmon, and Musky? No problem.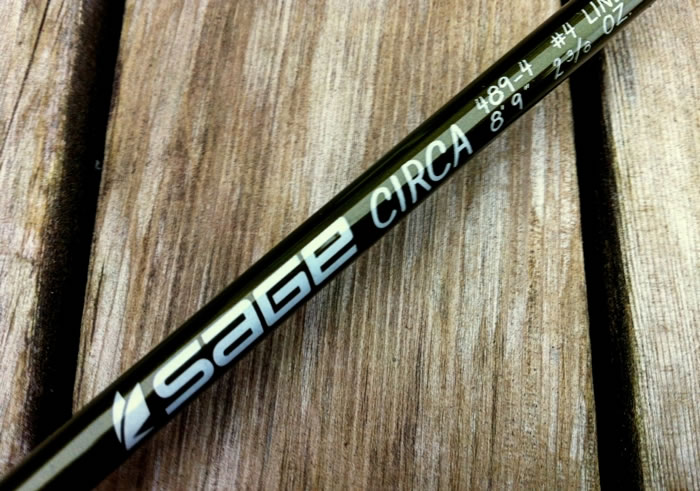 Sage Circa
GFS: Alright, moving on... now to the Sage Circa. Ok, George, whatís the deal here with this rod? I mean itís bringing folks to tears out there.
GC: Havenít you fished it?
GFS: Just in the lot. Not on the water. But Iíve heard enough to know this isnít your average stick-
GC: Well to be sure, the Circa is a special, special fly rod. Chief Sage fly rod designer, Jerry Siem is nicknamed the Guru of Graphite and in the grand scheme of rod designers he is definitely stands out as a living legend. The Circa is the perfect follow up to The One in that it signals a return to trout fishing as trout fishing really should be. Seriously, any trout angler who truly loves and cherishes their time on the water, anywhere, will find romance with the Circa. With just a few false casts they truly highlight how wonderful a slow action rod can feel and can fish.
GFS: Without getting too technical, can you explain whatís different about the Circaís construction? You know, put it in a language that most of us can wrap heads around?
GC: Sure, they are incredibly light and perhaps most notably, they are very thin diameter rods. A five weight looks like a 3 weight. The 2 weight is truly teeny tiny. You get the picture. In the rod lays a design story written by Jerry and the Sage design team. The patented Konnetic story is here in the Circa as well.
GFS: How does this design translate into performance?
GC: Very low swing weight and extremely smooth and sensitive. These rods have a feel that sort of redefines slow action rods - you know, highlights what they can truly be this day in age. They bring "slow performance actionĒ to the table or as I like to call it, "slow action with octane.Ē Iíve never witnessed somebody cast a Circa that, A: Wanted to stop casting; B: didnít start clogging their minds with places they wanted to fish it; and C: didnít start thinking about how they could get there.
GFS: What type of anglers are gravitating most to the Circa?
GC: Well there might have been a time over the past 25 years when you could really label a group of anglers, but not so much today. Every trout angler would love to fish a Circa. They are a blast to cast and just flat out fun, but they are not toys mind you. I couldnít help myself up in Alaska this year, as I just had to fish one on the upper Kenai for dollies and rainbows. I even went so far as to fish baby thingamabobbers with trout beads, Alaska style, for fish up to 5 lbs on the 589-4. I questioned if it had the octane. I mean, what I was doing was a far cry from fishing dry flies or light nymphs and emergers. But the truth being is that the rod is a roll casting machine and fought these fish gallantly in a big water environment. There were a few downriver chases, mind you, but such is as much fun as you can have standing up.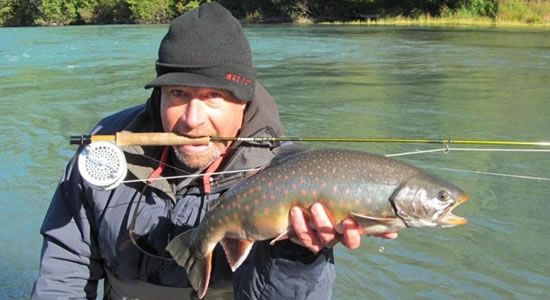 Tubby Dollie on the Upper Kenai/Circa 589-4 /Early September, 2012.

GFS: Although probably a stubborn sell, are you seeing many die hard, bamboo enthusiasts crossing over to this graphite rod?
GC: I tell you what. Bill Dawson, our sales representative in the north east tells exactly this sort of tale - almost as if the cane boys were lining up, skipping school to cast these rods off campus. It seems that a growing number of the cane boys have finally found a graphite rod much to their liking and I suspect that this will continue on, particularly this spring and summer in the heart of trout season.
GFS: How about this phrase, "Advanced Slow Action,Ē that is often used to describe the Circa. Can you shed a little light on this one?
GC: AgainÖ Redefining slow action as a performance tool is what the Circa is all about. Fun to cast and fun to fight critters with.
GFS: For you personally, what words come to mind while fishing the Circa?
GC: Butterrific
GFS: InterestingÖ that sounds fair enough. Ok, how about lines? What fly lines are best paired with the Circa?
GC: Three Mike. The Rio Gold WF, or the Trout LT WF and Trout LT DT are all spot on for the Circa family.
GFS: Best matched to the according weight? In other words, a 5wt line for a 5wt rod?
GC: Yes, itís a dead-on match.
GFS: Not everyone can afford the price tag on these George. What would you say to those people who might be more concerned with paying their bills than splurging on a new Circa?
GC: Well Duff, people miss mortgages over great sporting items. Soon, this will be added to the list.
GFS: I can find sense in that. Has that been said before, or did you just make that up?
GC: I actually had a customer say that to me this fall, if you can believe that.
GFS: Well much thanks, as always, George. I look forward to our next flap. But before you go, could you update us (as he is usually happy to do) on whatís up with your cat, Shad? How is Shad doing? (Shad is a 30 pounder and a pretty popular topic with George)
GC: Shaddie? Shad, or The Princess Panther as I sometimes call her, is doing well. You know, a friend of mine just the other day looked at her and remarked how her tail alone must weigh over 5 pounds. Which provides a lot of tail fur for fly tying. You recall, Duff, the steelhead I caught that one day on the Deschutes? That was one of my Shad-tied, go-to patterns that I call the Shadderrific.
GFS: Overall, how would you rate Shadís performance as a household feline? Slow, Medium, Fast?
GC: Well, given that sheís a panther and not really a cat, sheís always a 10.
GFS: If Shad were an angler, would she be a One gal or a Circa Gal?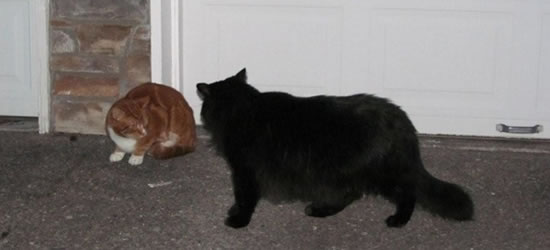 Shadow the PANTHER Cat "Towering" over Orange Cat (A Frequent Trespasser here).

GC: She would be all over The One because it is a black blank and sheís a black panther.
Much thanks goes out to George Cook for taking the time to check in with us, and to Sage for their dedication to quality in the fly fishing industry. Please view our product listings for further details on Sageís complete lineup of world-class fly rods. Explore Sage Fly Rods
---