Sage's Grace Rod Promotion
Since the previous release of Sage's pink fly rod, there has been subsequent and increased demand for a new edition.
The
GRACE rod
is the next generation pink rod offering from Sage and is available exclusively in an 8'6", 5 weight model which features all new cosmetics. A portion of the sale of each GRACE rod will go to
Casting for Recovery
; a non-profit organization dedicated to giving women powerful tools to overcome the challenges of breast cancer.
Sage will donate $50.00 for every rod sold and we (Gorge Fly Shop) will donate an additional $25.00 per rod sold.
Sage Grace Rod: Casting for Recovery
Features -
586-4 VXP
Fast action with soft feel
Pink iridescent blank
Pink primary thread wraps with black trim
Pink aluminum reel seat
Pink ballistic cloth rod tube
$50 donation per rod sale to Casting for Recovery(split between Gorge Fly Shop and Sage)
Easy to cast, exceptionally smooth and responsive.
With ultra high line speed and a slender shaft design that reduces overall weight, each rod in this series is consistently smooth and responsive. Great for beginning and experienced anglers alike, the VXP is designed with more high modulus materials resulting in a lighter rod with a slender shaft design.
Casting for Recovery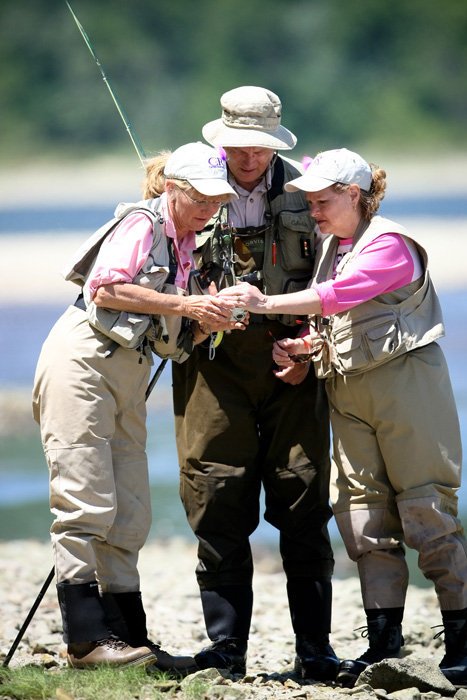 Photo courtesy of Casting for Recovery
"Casting for Recovery provide an opportunity for women whose lives have been profoundly affected by the disease to gather in a natural setting and learn the sport of fly fishing. Just as importantly, the retreats offer an opportunity to meet new friends, network, exchange information, and have fun.
Their weekend retreats incorporate counseling, educational services, and the trained facilitators that staff each retreat, including a psycho-social therapist, a health care professional (e.g. physical therapist, nurse), as well as fly-fishing instructors and river helpers.
Casting for Recovery has inspired the generous and loyal support of donors large and small, and continues to believe in its mission of providing women with powerful tools for healing at no expense to them."
To learn more about Casting for Recovery please go to their home page.