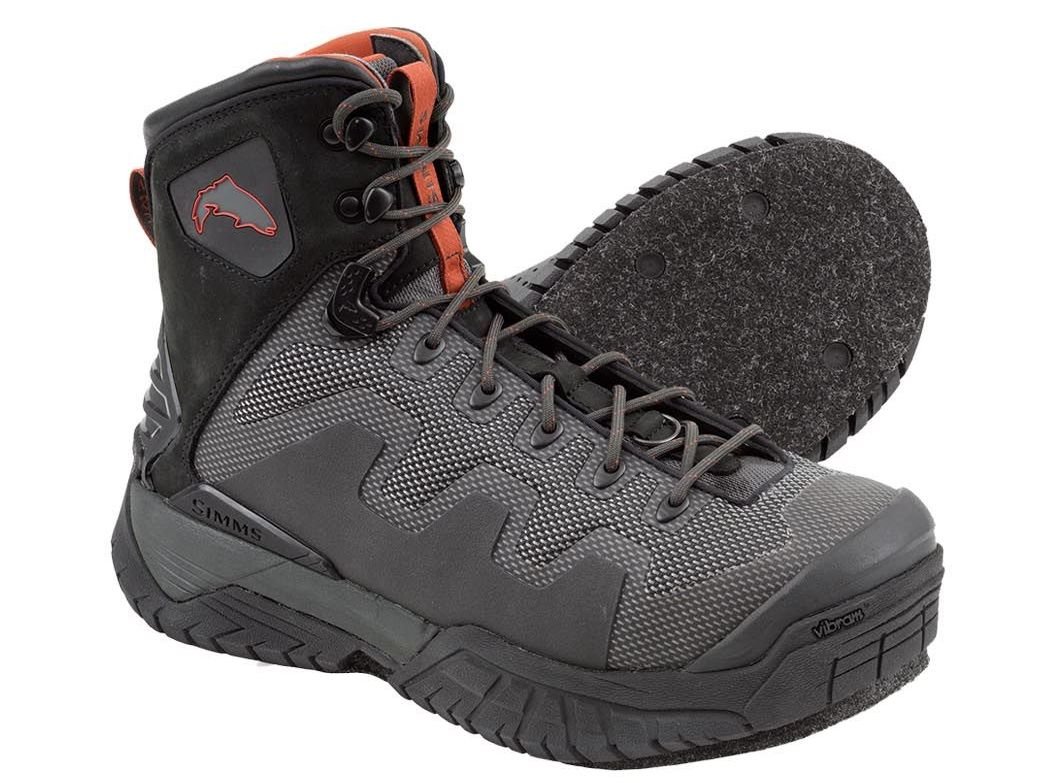 Buying the wrong boot can cause turmoil. Try not to do this. Fishing is supposed to be enjoyable, so while looking over your options, keep these general rules in mind.
---
Jump Up One Whole Size From Your Street Shoe.
Most wading boot manufacturers build boots to this standard. Generally speaking, they are manufactured to incorporate a sock of medium thickness and a neoprene wader bootie. If you wear a size 9 street shoe, then you should be thinking about a size 10 wading boot. This is true for SIMMS and Korkers boots. Bump up one size and this should be your starting point.
**Please note that this does not apply for Redington Wading Boots! When purchasing Redington boots, you should buy the SAME size as your street shoe**
Typically, wading boots are only built in whole sizes. If you wear a 9 ½ street shoe, you should bump up 1 ½ sizes to an 11 wading boot. A half size bump, will not give you enough room.
This rule applies to most feet. However, extremely wide feet or feet with a giant instep, may need a two size jump. So if you wear an extra wide size 9 street shoe you might need an 11 wading boot depending on the manufacturer.
Too Big is Better Than Too Small
If you are on the fence, go with the bigger boot. Boots have a tendency to shrink. Cold feet, boot blowout, and sometimes lots and lots of pain can all be the result of a boot that is too small. Boots should not be too tight so as to impede circulation, which ultimately leads to chilly or numb toes. Furthermore, if you fish during cold weather, you might want the option of using a thicker sock to stay warm.
Too tight can lead to excessive wear on the boot and the wader. Boots that are too snug may breakdown prematurely. If there is too much stress on the materials, stitching can give out which leads to holes in the boot. Gravel gets in holes and tears apart your wader bootie. Then you are not only in pain, but you are now wet!
Not to forget the crippling pain that may result over time! Toes that are crumpled into the end of the boot, or chronic pressure points around the foot take the fun away. Additionally, serious damage to your foot may occur and linger for years to come.
Comfortable Support
Your foot should not be slip-sliding around inside the boot. This may cause wear on the wader and even cause blisters. Ideally, the boot should gently hold your foot in place, but a slight bit of movement is tolerable. What we are looking for is comfortable support. Try to notice any places of pressure and realize that those areas will intensify over time. There should be space between your toe and the front of the boot. In fact, there may be instances when your toe is pretty far from the front of the boot, but it is how the boot grips the rest of your foot that matters most.
We understand that boot sizing is a subjective matter, however. This is an average guide for most instances, but we do understand that even though two feet may be similar, people have different preferences on fit. This is the toughest variable to address when sizing boots. Some prefer a tighter fit while others prefer the opposite. Furthermore, fit will also depend on the lace system and how a particular boot tightens up around the contours of a particular foot.
Give us a call if you need more assistance @ 541-386-6977
Gorge Fly Shop Team
"Fly Fish the World with us"