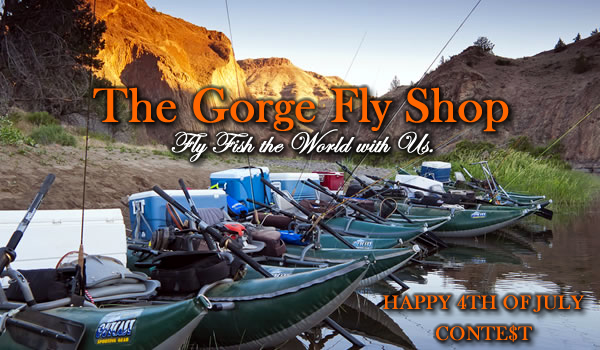 Our July 4th, 2012 Contest is now over. Thank You for entering.
Please join us again next year for any future 4th of July Contests.
The 4th of July Contest: "What does Fly Fishing mean to you?"
Fourth of July is a special holiday, a time for BBQ's, cold beer and apple pie. It's a time to show your support for country, weather it be a flag rippling in the wind, a magnet on the tail-end of your car, showing up to your local 4th of July parade or simply getting that line in the water. 
---
In honor of this up coming 4th of July, we would like to celebrate with a contest. So dust off your thinking cap, get your tablet, notepad or computer out...
For this contest write a story about 
"What does Fly Fishing mean to you?"
 What makes it so special... Submit your story to us by midnight July 4th and we will pick the best story and the Winner will receive a $25.00 Gorge Fly Shop Certificate. 
Submit your story in person at the shop, or via email.
>> 3200 Lower Mill Dr. Hood River, Oregon 97031
---
By sending in your story you are giving us permission to post your stories on our web site. Don't worry, we will give you credit. - We love hearing from you. The GFS Team.
---
Congratulations Joe Alsworth
What does Fly Fishing mean to you?
There are very few things that will get me out of bed before sunrise. Of all the reasons, the prospect of a tight line is paramount. As with all fisherman, who don our gear and pick up a fly rod, I too am in search of the action--the moment when you see or feel the twitch in the line and lift your rod to set the hook. I, like so many others, am also drawn to the beauty and the mystery of fly fishing. There is something very power, simple, and extremely complex about a fish taking a fly that you have tied. The hours spent over the fly tying vice, the precious moments and creativity spent making original touches to your fly of choice. All of the preparation, and dreaming is lost in the moment when that line pulls taught and the fight is on. I hunger for the big fish, the one that makes my reel scream and my heart race. Yet, I have come to realize that fly fishing, for me, is more than just those moments when a huge fish is on my line. It's the moments when I stop fishing and drink in the beauty of my surroundings. The moments when the Osprey circling above dives down and plucks a fish from the water. It's the moments when my son, diligently watching his fly, lifts his rod tip to set the hook. It's the moments when I look down the river and see my good friend beaming, as he reels in yet another fish. Fly fishing for me is the space to connect with creation, the Creator, my family, and friends--and every once in a while that fish that runs deep into my backing!
Joe Alsworth