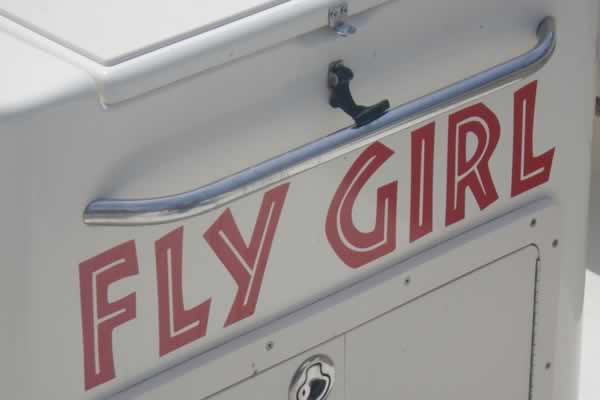 My latest adventure took me to The Outer Banks of North Carolina
Locally better known as
OBX
. We had a week on the four wheel drive beach with family. Fishing was not really the plan but I was sure I could squeeze some in somewhere. So I did some research and found a couple of guides of interest. The first guide trip I booked was with Chad from Having Fun Fishing Charters and although I was looking for someone a bit more versed on the fly, Chad was the best option for an adventure with my mostly non-fishing father in-law and brother in-law. Chad is a local commercial crab fisherman but really enjoys doing some light tackle trips in the Sound during his off season summer time. This was perfect for some family time. We had a great time and caught a bunch of
Speckled Trout
and
Striper
. Dave, my father in-law caught the biggest fish and so far he has reminded me of that every day.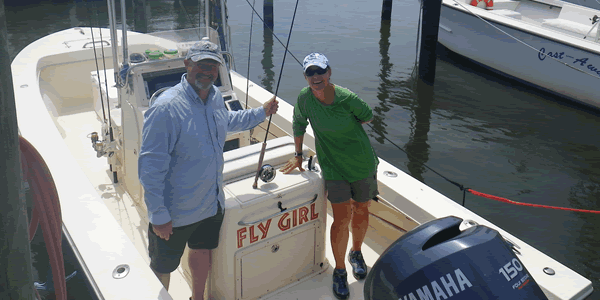 Greg Darling and Fly Girl do the meet and greet.
Fly Girl
The other trip I booked was with Captain Sarah Gardner or aka "Fly Girl" with
Outer Banks Fly Fishing
. I only found a few fly guide choices in the area and my instincts led me to believe that I could not go wrong with a lady Captain and boat that goes by the name Fly Girl. Maybe I'm giving myself too much credit for a
"No Brainer"
but I could not have been more spot on. Jo (my better half) and I arrived at the
Oregon Inlet Fishing Center
and quickly spotted the Fly Girl boat. Anticipation was building as my eyes scanned over the well set up center console fishing vessel. Seconds later we were greeted by Captain Sarah and in short order the boat was ready to push off toward our adventure. Sarah is fit, spunky and eager to get the day in motion. Her boat was clean and well organized and loaded with top notch fly gear ready to fish. I like to take my own gear with me but when I know my guide has it dialed in I don't bother to even pull my gear out. She knew her fishery and had gear set up to function perfectly for what we would encounter.
The final ingredient to assemble a great day fishing was realized when I returned from "using the facilities" before our trip to find Jo smiling and in conversation with our Captain. As the saying goes "If the wife is happy everyone is happy" or is it "If the wife isn't happy no one is happy", doesn't matter…works out the same. Point is with Jo comfortable then I don't have to worry about her and therefore focus on my fishing.
Sarah untied the dock lines and away we went out of the marina and through the channels. In short order she pulled us up on a shallow flat and it was time to test the water or test our skills. Not much going on here so we were soon off to another spot. No sooner than we arrived at the second location and Jo had hooked up with a nice Speckled Trout. While Sarah was handling that catch I too hooked up and had my own Spec in hand. A few more fish to hand and it was time to go on the big game hunt.
I said before that I don't consider myself a good fly caster
but Sarah had confidence in my ability to say we need to go after some bigger species. The wind was light and water calm so off to the blue we headed. It wasn't long till she came up on the transition line of water. This was really amazing. You could see the change from a long distance away and when we approached this line it was a clear divider of inland and offshore water. The water went from brown to clear blue on an exact line no wider than the boat itself. Seriously if you parked the boat on the line you could look over the inland side and see nothing but brown and very limited visibility and on the ocean side it was pretty clear blue with easily seeing well into the depths. Now armed with a 9 weight in hand and making some random casts working the edge of this line Sarah informed us of what we would be looking for.
Shark
,
Cobia
and
Dorado
are the primary species and other opportunities are always possible in saltwater fishing. Pretty soon I was spotting the flash of baitfish in the waters depth and that was the sign of good to come. "There's a fish" Jo yelled, it was a brown fish,
"Cobia"
Sarah shouted and just like that I had something to cast to. I shot a cast at it and in a couple strips he was interested and followed but no take. We quickly spotted another and made a couple more casts but the Cobia weren't committing. Sarah says "I'm changing your fly". It wasn't long and we had another one in site and one turned into about 6 fish in front of us…I'm not sure which one to cast to. I made a cast and got two interested in my fly right away. This is awesome! Here I am in the blue water sight casting to a big Cobia and watching one track my fly. His mouth opens up and inhales my fly. Unlike most times, this day I remain patiently calm and made just the right strip set to plant the hook firmly.
Fish On!
At first this big Cobia didn't even know he was hooked even though I had the 9 weight firmly bent but as soon as he got close to the boat he figured out something wasn't right. The drag was set tight but he was able to pull away into the depths out of sight. I kept the pressure on him as I slowly started to pump him back up to the surface. After a couple of hard runs he was getting tired and it was time to bring him to hand. Landed!
My first ever Cobia
. Best tug I've had in a long time. I had a little mishap on the landing that resulted in a newly fashioned 5 piece rod but hey it does happen once in a while and I was long overdue. Sarah handled that fish like a pro. We snapped a few photos and most importantly released it in good condition to catch again another day.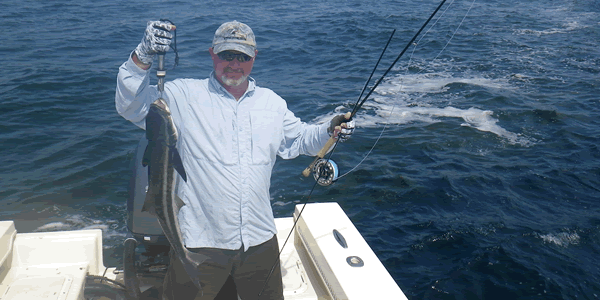 The fish that almost got away...
Great days fishing are never forgotten
and time with family is priceless so when you get the chance to do both I strongly recommend you take advantage of it. I enjoy fishing but just as much I enjoy meeting the good people in the fishing industry. Captain Sarah knows her stuff and if you find yourself on the
OBX
, I would recommend you book your dates. I mean come on; with the name
Fly Girl
, it's pretty much a No Brainer!
The cobia is a species of perciform marine fish, the only representative of the genus Rachycentron and the family Rachycentridae. Other common names include black kingfish, black salmon, ling, lemonfish, crabeater, and aruan tasek. 
Wikipedia
"Fly Fish the World with Us"