To Switch or not to Switch?
by: George Cook
What a silly question. Switch rod mania has fully arrived. Despite the beauty found with the versatility of such tools, lies a state of confusion.
Switch rods
mean many things to many anglers; an indicator rod fishing beads on the Kenai in late August; skating a dry fly on the North Umpqua in the same time period; an Oregon Coastal rod in the dead of winter; a Great Lakes stick of choice; the bomber beach rod on Puget Sound transcending to an extreme distance rod on Eastern Washington lakes. Lots of fisheries, lots of methods, one tool. No one line will cover all these needs, however the new
Rio Switch Line
covers two of the most predominant uses: nymph/indicator fishing along with floating line swing fishing.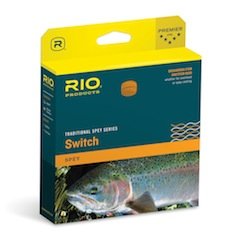 This brand new line features a 55' head which answers the call for both nymph fishing,
Spey casting
and a little overhead when called upon. The 55' foot length allows for short to mid range nymph fishing with plenty of body and back taper to spare for the tactical advantage of stack mending. The thick diameter tip turns over big flies and indicator rigs with ease, allowing the most ardent nymph enthusiast the ability to turnover all the "junk in the trunk". As a spey line, you will find that this taper very nice for a multitude of traditional and hybrid spey casts, although limited as far as big distance goes. Couple this with 6' and 10' Spey VersiLeaders as a VersiTip concept and you have got a real winner on your hands. Welded loops make this a very clean and efficient VersiSwitch system. The Switch answer has arrived!

| | | |
| --- | --- | --- |
| Wt. | Length | Weight |
| 4/5 | 55' | 300 gr. |
| 5 /6 | 55' | 350 gr. |
| 6/7 | 55' | 410 gr. |
| 7/8 | 55' | 460 gr. |
| 8/9 | 55' | 520 gr. |