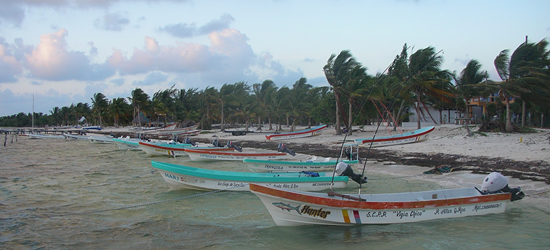 Beaches in front of the Palometa Club
Palometa Club: Never Ready...
My Tropical Fly fishing adventure trip is booked...Now what do I need to make this a great trip!
While this may sound strange to some but for me getting ready for a fishing trip is fun in itself. The planning, anticipation and gear preparation is exciting. It's the years of learning the sport, learning the species and collecting gear that now it comes down to using the knowledge to put together all the stuff that will make a great trip without hauling a truck load of gear to the airport and spending all your fun money on luggage fees.
This Trip is taking me to sunny tropics on the edge of Ascension Bay to the Palometa Club in Punta Allen, Mexico. The Permit are big, Bonefish are plentiful and Margaritas are waiting for you when you arrive back at base after a day of adventurous fishing.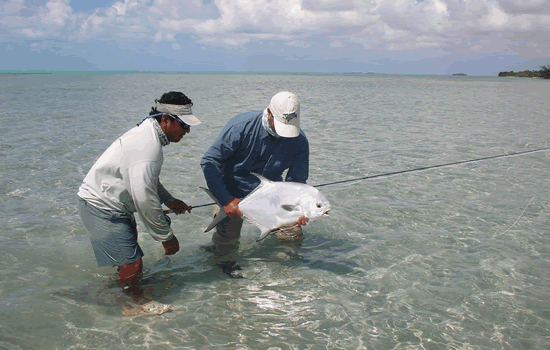 I wasn't expecting this welcomed trip so it didn't leave me a lot of time to prepare. I do have one advantage that is I have been there once before and plan to draw on that experience to make the best of this one.
Getting ready for Mexico should be pretty easy... Let me explain, I have been to a variety of destinations that Include many modes of transportation, from jumbo jets to float planes, trains to automobiles. Each trip requires its own gear list, beyond your fishing gear; tents, sleeping bags, food, first aid, boating equipment, bear protection, maybe a kitchen sink, the list goes on. When it comes to traveling to the Palometa Club and if you have more than one checked bag and a carry-on, you have packed too much! More on this to follow.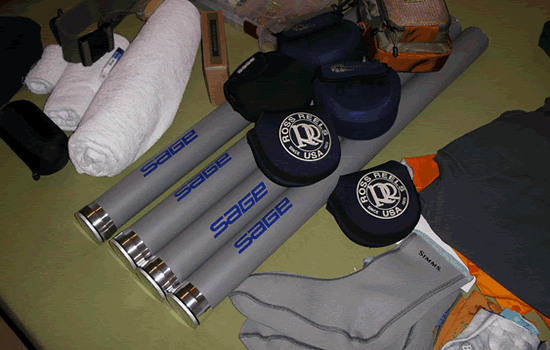 Fishing equipment - Rods
At the Palometa Club you're mainly fishing for Permit and Bonefish with some possible added attractions of baby Tarpon, Shark and Barracuda. You need at least two rods. A ten weight for the Permit and an eight weight for the bonefish...Seven and nine weights will works also. Whether you choose to take more than this is up to you...There is always a chance of breaking a rod on any trip so consider taking back up rods. Things to consider for any trip; does the outfitter have equipment available for rent in case of a mishap? Will others in your party be bringing backup equipment? How often do you break a rod? I have friends who can break a rod before they even get to the water no names mentioned (DP). If you're that person than never leave home without backup rods.
As you move up into Saltwater Flats fishing your reel becomes very important. Saltwater fish will test your drags and your reels ability to withstand the environment. They must be large enough to hold a sufficient amount of backing. I have witnessed two pound Bonefish put an 8 weight rod/reel deep into backing! I prefer sealed disc drag reels such as Hatch, Nautilus or Sage reels. Reels are pretty easy to pack so I always like to take extra(s). Not just extra spools but full reels. Extra spools are handy things when it comes to changing a line but what if your reel becomes the victim of a tragic event whatever that may be, bent frame, blown up drag, busted reel foot, you will figure out real quick that the extra spools are now useless. Take an extra reel and have it ready to go with backing and line. And that brings us to fly lines.
Whatever you do don't tighten your budget around your fly lines. Your lines must be formulated for tropical temperatures. Standard freshwater lines will wilt in the tropical heat.
Probably the number one backup piece of equipment is a fly line(s). Fly lines are easily destroyed on the tropical flats. Coral will rip one to pieces and is just one way your line can reach its final destination. There are many good tropical lines today from Rio, S/A and Airflo that will get the most from your rods and match your casting style.
I really don't want to get too deep here because we could talk the rest of the article on this topic. Any good Outfitter will have a list of Flies, Leader and tippet you should have with you. I found the link in about 3 clicks for the Palometa Club list. It's fun to have some of your own flies you tied or a new idea about tippet but also trust your outfitter here...they do this every day and they know what works. The most important thing to know here is be prepared with this stuff. There are no fly shops between Cancun and Punta Allen.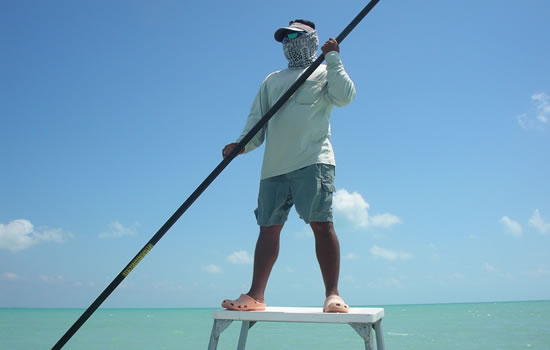 Probably the best recommendation I can make is to have a pair of Flats Sneakers and Simms makes a great pair of these. But I have to admit I like the Streamtread Sandals and that's what I'm going with. The Simms sandals feature a closed toe that will protect you from things you bump into and are plenty sufficient for the Permit fishing. If you plan on doing much Bonefishing you may want to consider the Flats sneaker as your preferred choice. Much of the Bonefishing areas are soft bottomed and coral pieces can really cut toes up.
Pack fishing clothes and evening clothes. You're in the Tropics; you won't need a lot of clothes. Let's start with fishing clothes. Nylon pants and long sleeve nylon shirts with UPF protection are necessary. Simms makes great fishing clothes for the tropic flats. Don't forget Your Buff headwear and a favorite fishing hat. Just a couple pairs of flats clothes will be enough. You'll be in and out of water all day and when return to the club just rinse out your flats clothes, hang to dry and they're ready for the next day. One pair (well maybe two pair) of Exoficio underwear and something to sleep in rounds out the necessities. Equip yourself with a lite rain shell for the morning bay crossing and the occasional rain shower. Bring some casual wear for evening dinner and drinks and that will have you covered.
Personal items
You know what you like to include so I'll just a short list of things not to forget. Laptop (or not), camera, sunblock, stripper gloves, two pair sunglasses, first aid (see Charlie's article) and leave the kitchen sink at home please.
Traveling
I like to carry-on my fishing gear...A 4"
rod tube
and a rolling carry-on for the gear and one checked bag for the rest. If you can't get it all in that or you're paying overweight fees than you have packed too much! I hope if your got nothing more out of this article you came away with the realization that packing for a trip of a lifetime to this destination is really minimal and easy.
Like all fishing trips
, they require preparation, planning and a little luck for an enjoyable trip. Although, when the day arrives and reach my destination, I usually have what I need but usually find myself "Never Ready" for the experience that is to come.
Rambling thoughts of The Tormented Angler
Gear List
---
Learn more about Mexico and the Palometa Club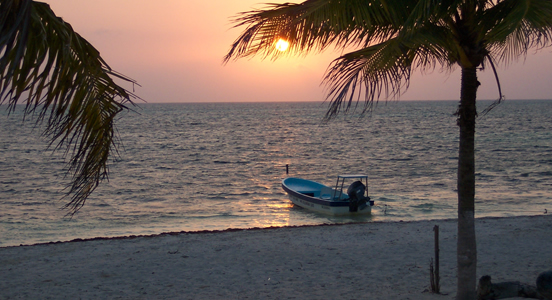 Mexico Bonefish, Permit, Tarpon and More!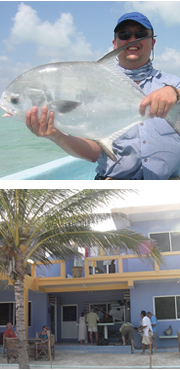 In the heart of the Sain Ka'an Biosphere Reserveat the northern entrance to Ascension Bay is the small village of Punta Allen. Punta Allen is the lacation every flats angler dreams about. With in minutes from the small village are some of the most productive flats in the world. On these flats is where large numbers of Bonefish, Permit and Tarpon call home.
On the edge of Ascension Bay some of the best flats fishing you will find in the world. These famous waters are filled with bonefish, baby tarpon, barracuda, snook, jacks and much more, but it is the WORLD CLASS permit fishing that Ascension Bay is most noted for. It has been claimed to be the best place in the world to catch a permit on a fly. Having an excellent guide is very important on these flats that is why we go to the Palometa Club.
Whether this is your first or fiftieth trip to the flats the Ascension Bay area will amaze you. This area is known to be the Grand Slam Capitol of the world. Bonefish are plentiful here averaging 2 to 3 pounds with fish reaching as large as 8 pounds. Baby Tarpon in the 5 to 40 pound range cruise the mangroves in great numbers.
The most exciting and difficult fish you will get a chance to cast to is the Permit. With the high numbers of permit in this area it is known as the best place in the world to catch a permit on a fly. In addition you will find Snook, Cuda, Jacks, Snapper and many more fish eager to crush your fly.
The Mayan guides are excellent, and know these waters like the back of their hand. Like most flats guides, they have the eyes of a hawk. Expert seamen with seaworthy agile pangas, they are able to put you into Bonefish twenty minutes from the lodge, though most destinations are about 45 minutes away. The fishing... well we don't have to tell you how it feels to have your reel screaming with the run of a 30 pound Permit on the end of your line. So stock up on sunscreen, grab your sunglasses, put on your hat and head for the flats of the Yucatan! You've heard the stories, seen the pictures, now experience these exotic fish and the clear waters of Mexico for yourself on a guided trip organized by the Gorge Fly Shop.
The Palometa Club is the premier lodge of the Ascension Bay area, not only is the lodge one of the nicest in the area, the Palometa Club has gathered some of the best guides in the region. You will have the advantage of 2 guides per boat, this gives you the advantage of 2 sets of eyes, and while wading a guide with each angler.
The Palometa Club is a fully-inclusive lodgeincluding transportation from Cancun. The cost is per angler based on double occupancy, non-angler prices are available. If you would like to see more detailed information on the Palometa Club at
www.palometaclub.com
. Call or email us if you would like to join us for some great fishing in Mexico at the Palometa Club!