One could certainly wax poetic and become mired in philosophy while trying to channel your inner Norman in order to understand this obsession with fly fishing. But at the core,fly fishing is so much damn fun. And we spend thousands of dollars for travel fly fishing because it's really really fun. Last month, I covered what to pack to remedy our
medical woes
when abroad, and this month, I'd like to suggest tips, tricks and gadgets to maximize the fun aside from the fishing aspects.
Getting There
Before you travel, look into medical evacuation insurance. I always purchase this insurance when traveling abroad so I don't end up rehabbing an ailment in a far away third world country. A number of websites provide comprehensive reviews on carriers,and you can purchase for a single trip or an interval of time. Check the fine print to evaluate the conditions for evacuation back home. I don't usually purchase trip cancellation insurance unless the trip cost can be measured in a large expenditure because upon review of conditions, most of these plans have a significant amount of exceptions and conditions, but I leave it to your best judgement.
With air travel, I always try to carry on whatever I need that I can't replace in order to fish. I love the Patagonia Great Divider bag because it fits perfectly under the seat and I can fill it with boxes of flies, reels, electronics and my noise canceling headphones.Upon arrival, I can repack the bag with what I need on a panga or jet boat. If I'm not packing spey rods, then I also carry on my rods. A number of destination fly fishing places have limited to no access to flies, so I always carry these on. Only once when traveling back from Baja have I been ordered to check my fly boxes. Otherwise, TSA has never looked twice at this army of hooks. I still haven't come up with a scenario where a box full of crab patterns would allow me to commandeer a 757. And yes, you'll look like a dork but buy a curved neck pillow for the flight. My personal favorite is made by Eagle Creek and though I resisted for years, once you make the purchase, you'll be fighting over using it with your family and friends.
There
Anyone that has spent any time with me knows how seriously I take my meals. Once you are there especially in another country, do not eat anywhere that you can have back home. Part of the wonder of travel is to experience their culture not to immerse your self in the Americana at Applebee's, Chili's or Subway. In fact, venturing off the beaten path will frequently lead to cheap and delicious cuisine that you cannot find back home.We have become a culture of electronic gadgets and I am as guilty as anyone. I pack a Belkin surge master so I can plug several cords as well as two outlets for USB cords without having to pack all the various plugs for all my gadgets. On any fishing trip,eventually, you are going to go for an unintended swim or be subject to a downpour. To capture all the wonderful moments, invest in a point and shoot waterproof camera. My current personal fave is the Panasonic Lumix. And pack several backup batteries and power sources so you don't miss a photo of that fish of a lifetime or your buddy that hooked the guide. To protect your other gear if you don't have the divider bag, pack a waterproof or water resistant pack or bag because sooner later it will go for a swim or be sitting in 3 inches of oil slicked bilge water. Frequently a day on a boat might entail some unintended sight seeing. A pair of binoculars can take up a little too much space and weight, so I have a monocular from REI that I bring along in the day pack.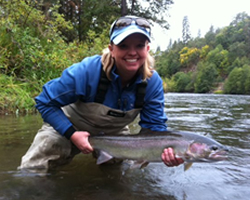 Being in Oregon,
two things we do not tolerate: bad coffee or bad beer. I've had my fill of coffee that could strip the threads off a bolt, so I pack an Aero Press coffee maker which is perfect for making a cup or two. Being the pretentious coffee snob that I am, I pack it for local stream side use. And if you really want to become pretentious, bring along a Hario Slim manual coffee grinder. With a supply of hot water, you can make coffee that will rival anything that normally costs $3 a cup. And after packing all these gadgets and you still have room, take along a small speaker for playing music while you sit on the back deck toasting that fish of a lifetime. I have been able to consolidate space by packing a few changes of clothes that I wash by hand. Magellan's web site sells a simple clothes line that you can string in the shower. Their website is a great resource for a number of conveniences that make traveling more comfortable and to find all the weird power converters you might need.
Last of all,
be willing to go outside of your comfort zone. Listen to your guide and if they suggest a species or tactic, give it a try. If the day's lineup pairs you with strangers instead of your local friends, embrace the experience. You might find that you make life long friends that you can plan future forays to exotic places to catch exotic species and laugh your butt off. I've only covered a few items but feel free to pass along other questions to the
Gorge Fly Shop
.