River: Sandy and Clackamas
Species:
Winter and Summer Steelhead
Time of year:
Late November through June
In many ways, the Oregon's Sandy River may be the epicenter for winter steelhead fishing in the Pacific Northwest. Every spring anglers from across the globe make their way towards Troutdale, Oregon for the Sandy River Spey Clave. Consequently, the Sandy has become synonymous with Spey casting. More so, many anglers found the secret of the Sandy... Despite it's close proximity to Portland, the Sandy is also a beautiful place to chase steelhead.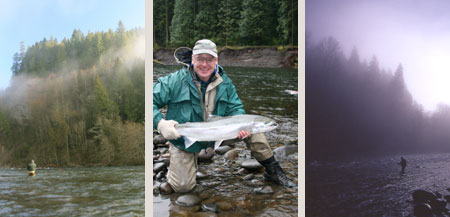 The Sandy is Oregon's oldest "Wild and Scenic" river. Furthermore, a good portion of the land is owned by The Nature Conservancy or by the state. Although the outskirts of Portland are nearby, one wouldn't know it when fishing the breathtaking Sandy River canyon. While driving 20 minutes west takes you into the urban jungles of Portland, 20 minutes east takes you into the rural wilds of Mt. Hood. The river literally dissects civilization and wilderness. It's not uncommon to see deer, elk, bear, bald eagles, and ospreys during a days fishing. With miles of incredible steelhead water, the Sandy is an urban Mecca for steelheaders.
Steelhead can be found year round in the Sandy. However, glacial run-off can deem the river un-fishable during the hot summer months. That said, the river is best known for it's huge winter fish and the chrome bright early summer fish of spring. Our favorite time to pursue these incredible steelhead is from late November through early June.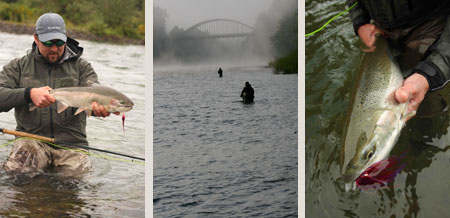 The Clackamas is another great option in the Portland area. Unike the Sandy, the "Clack" is not a glacial river and doesn't experience the mid summer blow outs. More so, it's a much larger watershed. Consequently, while many other rivers, including the Sandy, blow out during large winter rain events, the Clack can stay fishable.
What seperates the Clack from all other winter rivers is the vast amount of incredible fly water. Endless miles of beautiful riffles, deep pools, greasy flats, and broad tail-outs. It's a steelheader's dream. While the Clackamas has steelhead entering the river nearly year round, the best time to her incredible steelhead is from December through June.